First Look At The New Cast Members Of Law And Order: SVU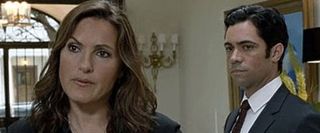 When the original Law and Order was canceled it seemed as if Law and Order: Special Victims Unit could capably carry its reigns. Like its former companion SVU has won awards over the years and has featured a pretty stable cast over its 12 season run. However, due to contractual conflict, Christopher Meloni left the show back in May, and Mariska Hargitay is not scheduled to appear during some of Season 13 episodes after requesting a reduced workload. SVU has been on less than stable ground over the past few months.
Because of this, SVU spent some time looking for two charismatic actors who could take the show in a new direction. They found them in Danny Pino and Kelli Giddish. If you are unfamiliar with the new lead and sidekick, NBC has put together interviews with the cast and crew introducing us to the characters and showing us the direction Season 13 plans to take us. Maybe it is just for the video's sake, but most of the cast seems pretty pumped for the new actors to find their niche. Plus, Hargitay has a new hairdo and looks to play the part as badass female better than ever. You can check out the video, below.
If you are wondering what Ice-T has to say about the future of the program, he isn't worried about SVU getting canceled. According to Ice-T: "The only way this ship sinks is if I leave."
Reassuringly, Season 13 of Law and Order: SVU will premiere September 21 at 10 p.m. ET.
Your Daily Blend of Entertainment News