The Flash Just Revealed One Villain's Shocking Identity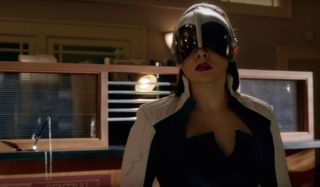 Warning: there are major spoilers ahead for next week's episode of The Flash. If you don't want to learn Doctor Light's identity, click on another one of our fine articles.
Typically when The Flash has revealed a new character for the show, they announced the actor playing them not long after. However, in Doctor Light's case, despite being seen in previews, who she is remained a mystery, and that visor obscuring her face didn't offer any clues as to who is playing her. Now, thanks to an Australian trailer for next week's episode, we know why they've been keeping the identity of this adversary a secret.
Are you still with us? Okay, so as you can see in that preview for the episode "The Darkness and the Light," The Flash's Doctor Light in none other than the Earth 2 version of Linda Park, played by Malese Jow. Rather than make her Kimiyo Yoshi from the comics, the show has opted to make its Doctor Light a twisted version of a familiar face. Now it makes sense why Earth 1 Linda is seen crying in the Central City Picture News office in images for the episode. While Barry, Iris and the rest of Team Flash have already experienced going up against people from Earth 2, Linda seeing her doppelgänger is understandably freaking her out.
The Flash's Doctor Light was first announced three months ago, although no character details were provided at the time, and it now makes sense why. Although it's hard to make out everything being said in the video, Earth 2 Linda is clearly more malevolent than her Earth 1 counterpart, so the chances of her becoming a hero like the comic book Doctor Light are looking slimmer. However, it does beg the question of whether the series is setting Earth 1 Linda to become a metahuman. Just because Earth 2 Linda took the path of evil doesn't mean that our Linda would do the same if she gained her own light-manipulating powers.
Earth 1's Linda Park was introduced last season in "Crazy for You" as Barry Allen's love interest, and they dated for a couple episodes until Barry realized he was still pining for Iris. Linda briefly reappeared in "Family of Rogues," and it was mentioned two months back that she will appear for multiple episodes in Season 2. As for Earth 2 Linda, she's the latest metahuman that evil speedster Zoom has sent to kill Flash, following Atom Smasher, Sand Demon and King Shark.
You can catch new episodes of The Flash Tuesdays at 8 p.m. EST on The CW.
Connoisseur of Marvel, DC, Star Wars, John Wick, MonsterVerse and Doctor Who lore. He's aware he looks like Harry Potter and Clark Kent.
Your Daily Blend of Entertainment News
Thank you for signing up to CinemaBlend. You will receive a verification email shortly.
There was a problem. Please refresh the page and try again.