The Flash Is Adding A Justice League Character, Here's What's Happening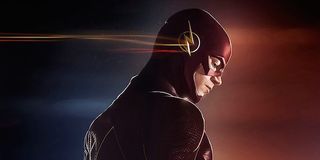 The Flash is following up on a casual namedrop over a year after it was first heard. When Cisco Ramon and Caitlin Snow appeared in the Arrow Season 2 episode "The Man Under the Hood," the latter mentioned a Dr. Light as an ex-S.T.A.R. Labs employee who was "a psycho." At the time, that was simply a fun Easter Egg for hardcore comic book fans, but now The Flash will be introducing a metahuman version of Doctor Light in Season 2, though whether it's the same one previously mentioned is unclear.
Showrunner Gabrielle Stanton revealed to TV Line that a female version of Doctor Light will be appearing in The Flash's sophomore season. What's confusing about this announcement is that the Doctor Light mentioned on Arrow was named Arthur and referred to as "he." So either this is some kind of ret-con or this female Doctor Light may be connected to Arthur Light in some capacity. To give some context to non-comic book fans, there are two "Doctor Light"s in DC Comics. The first is Arthur Light, a supervillain who has fought the Justice League and Teen Titans on many occasions. The second is a superhero named Kimiyo Hoshi. Let's focus on her for a bit, since she seems like the likelier option for The Flash.
In the comics, Kimiyo was an astronomer working at a Japanese observatory when DC's Crisis on Infinite Earths happened. In order to stop the story's main antagonist the Anti-Monitor, the villain's positive energy counterpart the Monitor sent a beam of energy to Earth to create another hero to join the fight. The beam struck Kimiyo, granting her powers like flight, light manipulation and absorption, and seeing all of the electromagnetic spectrum. She has since been a member of several iterations of the Justice League. Aside from the comics, Kimiyo's only appearances in other media include cameos in the animated series Justice League Unlimited and an alternate universe version of her playing a small part in the animated movie Justice League: Gods and Monsters.
Because of the vagueness of this reveal, it's unclear whether this Doctor Light would be an ally or enemy to Barry Allen and the S.T.A.R. Labs team. If it's the traditional female superhero, then presumably she will be one of the good guys, either right away or later in the season. Although Kimiyo and Arthur don't have a direct connection in the comics, it would be interesting if Arthur played some role in her becoming a metahuman. However, on the off-chance the show goes the same route they did with Bug-Eyed Bandit last season, this will make for an unusual switch. The Flash has been lacking in female villains, though, so some good might come of that.
The Flash Season 2 will premiere on Tuesday, October 6, in its normal timeslot on The CW.
Connoisseur of Marvel, DC, Star Wars, John Wick, MonsterVerse and Doctor Who lore. He's aware he looks like Harry Potter and Clark Kent.
Your Daily Blend of Entertainment News
Thank you for signing up to CinemaBlend. You will receive a verification email shortly.
There was a problem. Please refresh the page and try again.