Flowers In The Attic Trailer Teases Key Moments From V.C. Andrews' Book

Earlier today we got our first look of Lifetime's adaptation of V.C. Andrews' Flowers in the Attic in the form of a still from the TV movie, which will debut on the cable channel in January. This evening Lifetime has posted a trailer, which gives us a few glimpses of this dark and incestuous tale.
Set to "Sweet Child of Mine," the trailer begins with Heather Graham's Corrine telling her children that her family is "unbelievably wealthy." We hear someone say they don't like it here, and there are a couple of other glimpses of key moments from the book (more on that in a second) before Ellen Burstyn's Olivia (The Grandmother) yells at her daughter to disrobe and reveal the switch marks down her back. "I make the rules in this house, and I execute the punishments." We get a glimpse of Corrine crying, and then the tone shifts a bit as we see Cathy (Kiernan Shipka) dancing in the attic. She asks Chris if he thinks she's pretty. Cut to a shot of him pulling his shirt off, and then the start of a kiss.
Yeah, this is where things could get weird. As we shared earlier, director Deborah Chow has confirmed that the incest featured in Andrews' original story will be featured in the movie. The same can not be said for the 1987 adaptation of the book, which left out (or glosses over, at the very least) the taboo nature of Chris and Cathy's developing relationship. But make no mistake, Flowers in the Attic isn't a romance. As the trailer implies, these kids — who are hidden away in the northern wing of a massive mansion while their mother attempts to regain her father's favor — suffer for years at the hands of their Grandmother and eventually their mother, who finds herself drawn back into her parents' rich luxurious world, at the expense of her children's wellbeing. Chris and Cathy are faced with trying to care for their younger siblings while growing into adolescence.
Going back to the trailer, let's talk about some of those familiar moments. We have Corrine revealing the switch marks on her back, which is a demonstration of just how bad things are with her dying father.
Vague spoilers ahead if you haven't read the book!
There's also this quick glimpse, which I think might be Cathy and Chris' view of the Christmas party, which they watched from inside a piece of furniture at the top of the stairs…
I lightened up the image so you can see it more clearly. The trailer also shows Corrine slapping Chris, which might happen after she gets back to the kids' room later that night and finds them gone.
And then there's Chris seeing the grandmother without her wig. If this goes by the book, this would be at the point where Chris was sneaking around downstairs.
We also see Cathy dancing while Chris watches. He might be painting or drawing. Chris is probably better known for his interest in being a doctor and his love of books, but he has an artistic side. As for Cathy, being a dancer is her biggest dream. It's also worth noting that it looks like her hair's been chopped off at this point.
And then there's the shirt coming off and they're outside, which could mean that we're looking at Chris and Cathy's midnight swim. That's quickly followed by what looks like a kiss...
Finally, I'd like to point out the title card, because it looks like they're using vines.
It's creepy and it kind of reminds me of the rose vines featured on the cover of Gardens of Shadows, the prequel novel that tells Olivia's dark story.
Flowers in the Attic premieres January 18 on Lifetime.
Your Daily Blend of Entertainment News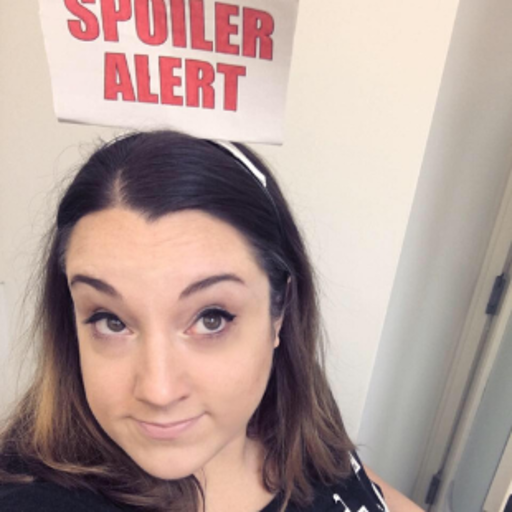 Assistant Managing Editor
Kelly joined CinemaBlend as a freelance TV news writer in 2006 and went on to serve as the site's TV Editor before moving over to other roles on the site. At present, she's an Assistant Managing Editor who spends much of her time brainstorming and editing feature content on the site.