Fox Adapting Two British Comedies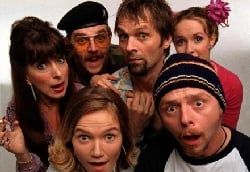 There's exciting news coming from Fox today. According to Zap2It, The beloved British sitcom Spaced is being developed for American audiences. The original Spaced stars Simon Pegg (Shaun of the Dead) and Jessica Hynes as strangers who pretend to be in a relationship in order to rent a flat. Fox originally requested a script for the hit show before the writers strike began in November, along with one for another British show, Outnumbered.
Now, I'm not going to lie; I've never heard of Outnumbered, which is apparently about a couple struggling to raise three children. The American version will be written and executive-produced by Seinfeld's Larry Levin. Spaced, however, is a show I have seen and love.
Written by Pegg and Hynes and directed by Shaun of the Dead and Hot Fuzz director Edgar Wright, Spaced is a brilliant comedy that tragically is not available on DVD in America. If you're a fan and are already bemoaning the fact that making Spaced into an American sitcom is going to ruin it, I'm going to tell you the same thing I said to my friend 10 minutes ago when I told him about this news: Stop whining. That's what everybody said about The Office too.
Now granted, before The Office there was Coupling, so I am well aware of how easily these things can go awry, but I am still clinging to the naive belief that American producers in general can learn from their mistakes. While the fact that Will and Grace's Adam Barr is writing the pilot McG is producing it aren't the best signs in the world, I'm still hopeful that they'll find a way for Pegg, who is now a relatively familiar face to American audiences, to be involved somehow. Regardless, even if it crashes and burns, as the same whiny friend pointed out, hopefully the interest in the show will be the push needed to at least get the original released on DVD.
Your Daily Blend of Entertainment News
Your Daily Blend of Entertainment News
Thank you for signing up to CinemaBlend. You will receive a verification email shortly.
There was a problem. Please refresh the page and try again.