Fox To Air Married With Children Pilot Prior To 25th Anniversary Special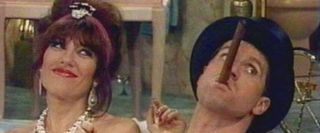 ABC, NBC, and CBS' network little brother Fox has been planning a 25th Anniversary Special for a couple of weeks now. The highlight of this birthday celebration will be a two-hour special taking a look at the most iconic moments of Fox's TV programming over the years. Set for April 22, the special will air during Fox's regular Sunday night comedy block from 8-10 p.m. ET. Cast members from Married with Children, X-Files, Beverly Hills, 90210, and many more are expected to appear during the special; but, as it turns out, that's not all Fox has to offer on its night of celebration.
Now, Fox has added a couple a couple of re-runs to get audiences into the right mood. At 7 p.m. ET Fox has decided to re-air the Married with Children pilot likely due to the longevity of the live action sitcom and its importance during Fox's first year on air. According to THR, at 7:30 Fox also has plans to re-air this year's 500th episode of The Simpsons, which initially aired last February and features none other than Julian Assange.
Clearly, the highlight of the night will still be Fox's 25th Anniversary Special. With its many guest appearances and with all of the TV episode clips involved with looking back at important Fox moments, it sounds like the special will actually be a whole lot of fun. I don't even think I'll mind seeing Ally McBeal's Calista Flockhart (and probably that damn dancing baby clip) one more time. Still, is there any better way to kick off the night than by airing a couple of episodes of some of Fox's oldest and beloved shows? Seems like the network hit the nail on the head.
Your Daily Blend of Entertainment News
Thank you for signing up to CinemaBlend. You will receive a verification email shortly.
There was a problem. Please refresh the page and try again.