Fox Fall 2013 Premiere Dates Set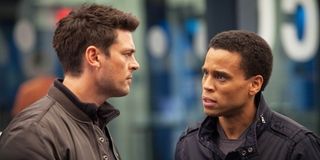 Fox is the fourth of the five major networks to announce their Fall 2013 premiere schedule, and for the network that recently brought us American Idol, there's a lot of X Factor on the menu. Fortunately for those who aren't looking for more singing, there are some returning dramas and comedies, and some promising looking new programs joining the lineup later in September.
Fox's fall schedule begins September 11 with the returns of The X Factor and Masterchef. Things get a bit more scripted the following week when Bones returns, followed by Roberto Orci and Alex Kurtzman's new drama Sleepy Hollow. And it looks like Fox is getting the jump on NBC and CBS in debuting the their new comedy line-up a week ahead of premiere week (Sept. 22), with a September 17 start-date for Dads, Brooklyn Nine-NIne, New Girl and The Mindy Project. In fact, Fox has almost nothing premiering during the week of September 22, excluding Masterchef Junior, which is set up on Friday, September 27, ahead of an encore episode of Sleepy Hollow.
It's interesting that Fox is pushing Almost Human off to November and giving Sleepy Hollow such an early start, mainly considering how suited Sleepy Hollow would be for a Halloween-season debut. Then again, the series likely stands to gain a bit more traction with an early start, which may be the intention. Comedy series Enlisted is also coming in late in the game, with a November 8 debut.
Yet to be added to the schedule and presumably joining the line-up during midseason are Rake, Surviving Jack, Us & Them and M. Night Shyamalan's Wayward Pines limited series.