Fox & Friends Host Accidentally Hits Bystander With An Axe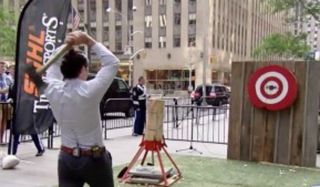 Last Sunday's broadcast of early morning talk show, Fox & Friends featured quite the unusual (and dangerous) event when co-host of the program Pete Hegseth attempted to throw a heavy axe at distant target. The tease was for an upcoming segment on timbersports, and needless to say, Hegseth is no professional. He blatantly misses the target hitting a marching band drummer standing in the distance. Take a look:
According to Mediaite, the drummer was a member of West Point's legendary Hellcats marching band though played throughout the segment in honor of Flag Day as well as the Army's 240th birthday. One of the lead drummers, Jeff Prosperie was performing right next to the caged section when the Fox & Friends host grabbed the axe and tossed it at the large wooden board/target. As you can see, the axe flew over the target by more than a couple inches, it really wasn't even close, which makes us wonder if this was even practiced before the show? Luckily no one was severely hurt, but you can see that the axe flies out of screen, to then be showing the marching band with the axe hitting Prosperie's drum and arm.
Soon after this crazy accident, Prosperie actually appears again on-screen for a brief interview with Hegseth discussing the origins and history of the Hellcat band. The two never bring up the altercation that occurred not too long before, and Prosperie is no longer holding his arm and appears uninjured.
But that certainly wasn't the last we would hear from the axe-taking drummer. Over the weekend Prosperie posted a lengthy and quite emotional message on his Facebook page in response to the incident. It included a slow motion video of the axe hitting him and Prosperie writes:
Pressed for more details after his message, Prosperie divulged some interesting snippets about the telecast saying that he was told there would be no axe throwing, claiming the anchor "went rogue and decided to throw it", only having practiced once before. The actual portion of the video where you see Prosperie hit with the axe was not televised, that was caught on a bystander's phone.
Prosperie did not indicate whether or not he will pursue any legal action, or if he was compensated for the incident. Either way, he sounds pretty shaken up, but thankfully, physically healthy.
Your Daily Blend of Entertainment News
Your Daily Blend of Entertainment News
Thank you for signing up to CinemaBlend. You will receive a verification email shortly.
There was a problem. Please refresh the page and try again.