Fox News Finding Fun With Photoshop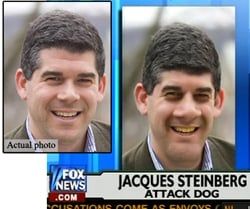 Adobe should look into getting some Photoshop sponsorships on Fox News Channel.
The internet, print, and television media is in an uproar over the doctoring of two journalists' photographs, some going as far as calling Fox's actions Anti-Semitic. Fox, of course, is claiming that it's all fair play and that they're just defending themselves from attacks by the mainstream media that they're currently leading in ratings.
On Saturday, June 28, the New York Times published an article by Jacques Steinberg titled Fox News Finds Its Rivals Closing In. The article, far from critical, discussed how the Fox News Channel had regained its ratings lead in the coveted mid-20s to mid-50's viewer group but that it may not be quite as untouchable after trailing CNN during the drama of the Democratic primary race between Barack Obama and Hilary Clinton.
Not that you probably care what the article was about, but you get the point that the article wasn't anti-Fox in any way, it only looked into the shifting of the ratings race while stating that FNC is still the lead horse in the race.
FNC's pitbulls apparently didn't see it that way, since the next Wednesday morning's Fox & Friends aired doctored photos of both Jacques Steinberg and NY Times television editor Steven Reddicliffe (Steinberg's boss) while discussing Steinberg's article. During the discussion, Reddcliffe was accused of being a bitter former employee (Reddicliffe was an editor for TVGuide when it was owned by FNC parent NewsCorp) and Steinberg of being his "attack dog".
Accompanying this article, you can see the doctored photo of Steinberg alongside the original photo. As you can see, the nose has been flattened, the teeth have been yellowed, and the head has been lengthened to give it a conical shape. There are likely several other alterations that I'm missing since I'm not great at visual details.
This inevitably - to borrow a term from my homeland of comic book fandom - broke the internet in half and the news media followed shortly thereafter. Fox claimed that the photos were done for "humorous effect" and that it was a measured response to what they claimed was a "hit piece" by Steinberg and Bill O'Reilly compared the incident to a drawing of himself published in the New York Times on January 14, 2007. The hideous, horribly offensive picture of O'Reilly can be viewed here. Apparently, O'Reilly is unaware that he really does look like that.
The NYT, realizing that Fox's bullying is really nothing new, largely refused to comment until July 7th, when David Carr wrote an article titled When Fox News Is The Story, noting that Fox has long used propaganda tactics that any disinformation campaign would be proud of. Carr, who claims that he has yet to significantly clash with Fox, gives many anecdotes to illustrate his claim that Fox routinely uses intimidation to control message and this latest incident is just the latest.
Perhaps the fact that so many news outlets have commented on this is another sign that Fox is slipping?
Your Daily Blend of Entertainment News
Thank you for signing up to CinemaBlend. You will receive a verification email shortly.
There was a problem. Please refresh the page and try again.