Fox Puts House On Hiatus, Extends Alcatraz Through March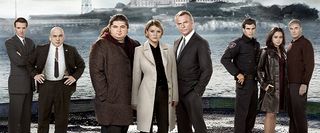 Dr. House is going on vacation, while Fox newbie Alcatraz will go on throughout the month of March. Fox made some changes to their plans for both shows today, which may say something about the future of each show, although that's just conjecture at this point. Certainly it speaks to the success of Alcatraz, which has been bringing in good numbers for Fox.
With the future of House still up in the air for next season, Fox has given the show a hiatus for the month of March and instead will extend the run of Alcatraz, which is doing well in the ratings. The Futon Critic reported the network's change of plans today.
Alcatraz was expected to go to two hour installments at the end of February, completing its run on March 12th. Instead, Fox will continue to air the new series weekly and will put House away for the month. The only exception is March 5th, when back-to-back episodes of Alcatraz will air. House will return on April 2nd and will air all original episodes throughout the rest of the season.
This means the Alcatraz' season finale will now air on March 26th, one week after the official premiere of the new Keifer Sutherland series Touch, which did well in its preview episode in January. After Alcatraz finishes up for the season, Fox Mondays will rely on House and Touch back to back. If Fox's venerable medical drama doesn't come back for another season next year, perhaps we'll be seeing Alcatraz and Touch airing on Mondays?
Your Daily Blend of Entertainment News
Thank you for signing up to CinemaBlend. You will receive a verification email shortly.
There was a problem. Please refresh the page and try again.