Fringe Moving Production To Vancouver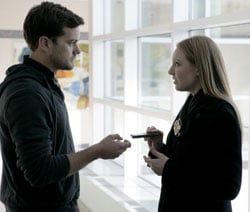 It looks like New York City is losing its recent luster and lure for production companies as Warner Bros. Television has announced when Fox's Fringe is picked up for a second season the show will move to Vancouver, Canada. The series about FBI agents following leads on weird anomalies on the fringes of science takes place in Boston, but has been filmed in NYC as a result of the NYC film/TV production tax incentive program.
According to Entertainment Weekly that program has run out of money and Governor David Paterson isn't planning to reinvest. Because of economic concerns Warner Bros. feels they'll need to move to Vancouver to cut costs. So we're right back where we were and all of the money put into this program has now been lost. Well not lost because the incentive was so popular it brought a number of high profile shows to NYC like 30 Rock, Ugly Betty, and Gossip Girl. But the intent was to help drive the economy in the city, and with Gov. Paterson not backing the future of this incentive all of the potential is up in the air.
Current NYC filmed shows like Life on Mars could very well make the same move as Fringe in the next season. Ugly Betty, which only recently moved shooting to NYC, will remain where it is.
Staff Writer at CinemaBlend.
Your Daily Blend of Entertainment News
Thank you for signing up to CinemaBlend. You will receive a verification email shortly.
There was a problem. Please refresh the page and try again.