Fringe Ratings Continue To Dip: Is There Any Hope That More Viewers Will Tune In?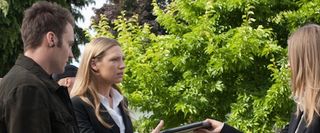 The ratings for Fox's scifi series Fringe dipped a bit lower this Friday night. While the drop wasn't all that drastic from last week's episode to Friday night's, the show's continued steady decline in the ratings, which may be continuing through its fourth season, is obviously bad news.
According to the Hollywood Reporter, Fringe took in 3.1 million viewers (1.2 rating) for its second episode of its fourth season last Friday night. The previous week's season premiere episode took in 3.46 million viewers. The decrease in numbers doesn't seem that bad from the first week to the second, however when you look at the ratings over the course of the last few seasons from week to week, you'll not only see that the show's numbers have been falling somewhat steadily for a while now, but that last Friday's episode was a series-low.
Given the complex plot of the series, which involves alternate dimensions, it seems fair to say that this is not a show that's likely to draw in a lot of new viewers, or at the very least, would require a fair amount of catch-up in order to get on board with the show. Then again, this is coming from the perspective of someone who doesn't watch the series (and is married to someone who does). I look at Fringe as a show I'd have to start from the beginning in order to appreciate and follow. Someday I may actually do that (and it wouldn't be the first great show I got on board with after it was cancelled), but in the meantime, it seems likely Fringe's best chance at ratings improvement is if viewers who have recently fallen away from the show came back in droves.
Fringe fans may want to start campaigning for the series if they aren't already. If it's as good a show as I hear, it looks like it could use some support.
Meanwhile, CBS' drama series were also down on Friday night, but the eye still won the night by a fair margin, with A Gifted Man bringing in 8.1 million, CSI: NY drawing 10 million, and cop drama Blue Bloods dominating the network and the night with 11.2 million viewers. Perhaps Tom Selleck would be willing to lend Fringe his mustache power for an episode or two?
Your Daily Blend of Entertainment News
Thank you for signing up to CinemaBlend. You will receive a verification email shortly.
There was a problem. Please refresh the page and try again.