From Mork To Simon: Robin Williams' TV Roles And Appearances We'll Never Forget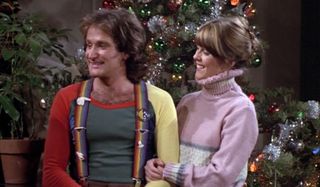 Before becoming a theater-packing movie star, the Emmy-winning Robin Williams found his big break on the small screen, and the sorrowful news of his August 11 death came nearly eleven months after his return to series television following a 31-year absence. There is no expiration date on any of Williams' innumerable energetic performances, and we thought now would be a good time to celebrate a selection of his most memorable television roles and appearances. Hop into the egg ship and come along with us, won't you?
As Mork
Having built up cred as a manic stand-up comedian, Williams landed a bit part on the hit series Happy Days as Mork, an alien who tries to bring Ron Howard's Richie Cunningham back to Ork, his home planet. Producer Garry Marshall was so impressed with Williams' comedic stylings that Mork & Mindy was born, and turned into one of the more enjoyable spinoffs in TV's failure-filled history. (Joanie Loves Chachi, am I right?) With Pam Dawber as his charismatic Earthling roommate-turned-wife, Williams brought charm and unpredictability to the "outsider" archetype that other series often turned into a mockery. Who else could have turned "nanu-nanu" into a widespread catchphrase greeting?
As the Frog Prince
In 1982, the same year that Mork & Mindy went off the air, Williams starred opposite Teri Garr in an episode of Faerie Tale Theater, as written and directed by Monty Python's Eric Idle. Williams plays the Frog Prince, though he's only a frog puppet for most of the episode, only turning into a human at the end. And I don't mind telling you that his transformation scene is nearly as disturbing as Rick Baker's famed American Werewolf in London makeup, just in a completely different way. Check out the full episode on Hulu here, and get ready for some bedroom magic after all that talking frog business.
As Himself, Scripted
Williams has played himself in two very different manners for two very different comedy series. He appeared as a talk show host guest on Garry Shandling's classic HBO series The Larry Sanders Show for two episodes, Season 1's "Hank's Contract" and Season 3's "Montana." He has a very Don Johnson-level of shadowscruff on his face and is a fine high-strung counterpart for Larry's nebbish and introverted personality.
For a Season 3 episode of FX's Louie, Williams stopped by to have a meal with Louie following the death of a comedy club manager that the two men shared a distaste for. If you think lap dances are better when the stripper is crying, then this is the episode for you, though it may come off as particularly dark, given the circumstances. He also played himself in episodes of The Max Headroom Show, The Bonnie Hunt Show and SpongeBob SquarePants, if those are more to your liking.
As Himself, Less Scripted
Robin Williams has probably appeared on television as himself more often than he has in any other capacity, starting off back in 1977 in a couple of spots on The Richard Pryor Show. His stand-up persona got him appearances everywhere, including a plethora of guest spots on late night and early morning talk shows. But he occasionally flipped over to the host side of things as well, first heading up Saturday Night Live in 1984 and making his final appearance in a 2010 episode with Robert De Niro. He also co-hosted the 1986 Academy Awards with Alan Alda and Jane Fonda (of all people). And who can forget his many years alongside Whoopi Goldberg and Billy Crystal raising money as part of the Comic Relief fundraisers?
Not to mention the wit-filled and energy-exuding stand-up specials he performed for HBO, from 1978's Off the Wall to 2008's Weapons of Self-Destruction. And if coarse language and adult situations aren't your thing, Williams also played himself in several episodes of Sesame Street.
As Dr. Eddy
When Williams grew his greying beard out, he looked very much like the kind of person who might have found a career in psychology. So it made perfect sense when he appeared in a Season 2 episode of FX's Wilfred as Ryan's (Elijah Wood) therapist. Or at least his dream therapist, as he only appears inside of Ryan's head after he falls asleep while working. Oddly enough, his advice seems to help, but it's when his methods turn towards sedation that Ryan realizes he's actually just the actor Robin Williams. It's low-key madness, which is what this series does best.
As Tomas
To promote the completely forgettable 1997 comedy Father's Day, Williams and fellow comic Billy Crystal appeared on NBC's Friends during its critical and popular heyday. Rather than just doing the normal thing and playing someone's family member or love interest, Williams and Crystal stole the episode's opening as Tomas and Tim, respectively. They inadvertently interrupt a Monica storyl by unleashing a horde of personal drama in Central Perk, including a philandering wife and an oozing emotional wound. The uncredited performances were completely ad-libbed, as the actors weren't even planned to be in the show, only asked to make the cameos because they happened to be in the same building where Friends was filming.
As the Dramatic Guy
It was always a treat when Williams decided to break away from stereotypically comedic roles for a trip into the darker side of humanity. His TV roles never quite matched his memorable dramatic characters, but he pulled out two pretty impressive performances for Homicide: Life on the Street and Law & Order: Special Victims Unit, both of which starred fellow comedian/actor Richard Belzer. In Homicide, he played the husband of a murdered tourist in the rare episode devoted solely to one case. Williams' character for Law & Order: SVU was written specifically for him, and saw the actor playing an engineer who poses as a cop over the phone and tries to get people to do illegal things in a plot to make them question authority. He received an Emmy nomination for Outstanding Guest Actor in a Drama Series for his performance.
As John Houseman
Williams stopped by the classic offices of the Second City Television Network for the SCTV cameo you see above, in which he mimics the iconic actor/producer John Houseman, whose delivery style was a tad stoic. It's a shame Williams wasn't a regular on a TV sketch comedy at any part of his career, as he often fell perfectly into whatever role he was playing.
As Simon Roberts
When Williams agreed to return to television for CBS' sitcom The Crazy Ones, it was much-welcomed news. He starred as an advertising exec who partners up with his overly parental daughter Sydney, played by Sarah Michelle Gellar, and the two take the marketing world by storm. While I wasn't particularly fond of this series, it accumulated many fans in its short-lived run before meeting its cancellation fate in May of this year. The Crazy Ones hasn't been released on DVD or Blu-Ray yet, but expect it to be a very special set with his death clearly in mind.
What were your favorite roles that Williams brought to television?
Your Daily Blend of Entertainment News
Assistant Managing Editor
Nick is a Cajun Country native, and is often asked why he doesn't sound like that's the case. His love for his wife and daughters is almost equaled by his love of gasp-for-breath laughter and gasp-for-breath horror. A lifetime spent in the vicinity of a television screen led to his current dream job, as well as his knowledge of too many TV themes and ad jingles.