Funny Or Die's Spring 1986 Line-Up Preview Features Jennifer Beals, Casper Van Dien And Others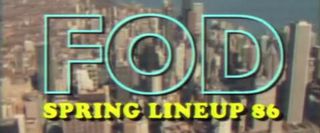 Funny or Die, the web pet project of Adam McKay and Will Ferrell's Gary Sanchez Productions, was a natural progression from their sketch-comedy roots, not to mention a way to continue to satisfy their comedic and creative urges during the downtime between films. However, what began as a place to showcase viral video antics quickly became a sandbox for a ton of different comedians and actors to test their chops. The latest playlist at the comedy platform is a glorious spoof on 80s television and features some totally rad forgotten stars. So, what's on the Funny or Die 1986 line-up?
The 1986 season is about to kick-off at the "F.O.D. Network" and it features a whole slew of exciting, uh, new programs. The docket this year is crammed full of star power including Casper Van Dien, Jennifer Beals, Soleil Moon Frye and many more. Ranging from supernatural procedurals like Malibu Days: Nights to more family fare like the situational comedy Chicklet Ambrosia, the network has seemingly covered all the genre bases in what looks like a powerhouse schedule this fall (well, over 20 years ago this fall). Oh, the 80s. Why must you be so easy to make fun of? It's easy to forget the quality did actually come out of the 80s (it does exists, The Cosby Show) since common public opinion is that the entire decade is kind of a punchline.
Not all of the individual shows are winners but the preview video that covers them all is priceless. Enjoy the trailer for the full "Spring '86 line-up" and then, to watch the actual shows - all 9 of them - head over to Funny or Die. Don't worry, when we say shows, they're really just more trailers. I recommend Cop-Puter, sounds like a technological thrill ride.
Your Daily Blend of Entertainment News
Thank you for signing up to CinemaBlend. You will receive a verification email shortly.
There was a problem. Please refresh the page and try again.