Futurama 2013 Comic-Con Panel Live Blog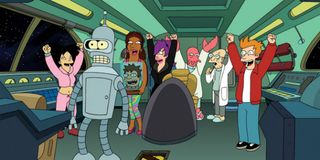 Bad news everybody, Futurama is making what is probably its last appearance at Comic-Con with the seventh and final season of the animated comedy currently airing and coming to an end very soon. It's doooooooooomed! But before the show goes out in a blaze of glory (I'm guessing), they also want to ensure an epic final panel. On the dais for the special occasion is most or all of Futurama's legendary voice cast, including Billy West, John DiMaggio, Katey Sagal, Maurice LaMarche, Tress MacNeille, David Herman, Phil LaMarr, and Lauren Tom. Oh, and there's a planned reading of a few scenes from the aforementioned upcoming last episode ever.
12:00 The panel opens with moderator Bill Morrison introducing the panelists, starting with creators David X Cohen and the legend Matt Groening. They open with a bit about SDCC rules not allowing more than a five panelists so it will just be the two of them. And some guests, not panelists, guests. So they quickly introduce them and it happens to be, well, the entire voice cast as promised. They are all welcomed with tremendous applause, befitting the occasion. Remember, it's the last time. Maybe. Doooomed!
12:08 Without wasting any time, they introduce the table read for the first act of the series finale, Well, the second series finale. It's called "Meanwhile." It's rad to watch the entire cast at work, even though a lot of the visual jokes that typically litter the animated comedy don't really land with just the stage directions. The Planet Express crew are hanging out at a local carnival, with Fry and Leela off together while Bender mixes it up with a kid.
12:12 The cast has such great chemistry on stage and the crowd is eating up every line. The deliveries are a little exaggerated but super fun to watch. Especially when DiMaggio is repeatedly throwing up. I don't want to go into too much detail about the plot because, well, it's the finale and why spoil too much of the fun in advance? I don't plan to take away from your experience with what could be the last episode of Futurama ever. Fine, a hint. It's a love story. With some time travel. It is science fiction after all.
12:17 The plot is incredible intricate and cleverly structured (as usual) and manages to contain all the elements we have come to love from the show, a mix of both ridiculous and sweet moments. Almost all the main characters make an appearance in the first act and it ends on a wonderful reference. Oh my, it looks like they also have the finished act two for us to actually watch! Comedy Central said no but Groening adds what can they do, cancel them again? Be back after the footage!
12:26 The footage was great. Nice to see the visual jokes play out in animation. Again, Im not going to spoil what happens but it will make a big splash. Cohen also mentions that Comedy Central is sending them off in style and fans can go vote on their ten favorite fan episode will air on August 25. Make sure you go to the website to vote!
12:28 Question time! The first person, dressed as Fry, wants to know some backstory about the names and why people call Fry and Leela by their last names. Basically, they just think it's funnier to call him Fry. As for the Philip, it comes from Groening's father's name, same as Homer. Homer Philip Groening. The crowd awes and the fan gets a brain slug.
12:30 The next person wants to know if there are plans for a crossover ep with The Simpsons and Groening teases that they should stick around for the next panel because that Q will be answered. They might not like the answer but it will be answered. Stay tuned. And as for more Futurama stories, they have a bunch they want to tell still and hope to find a new home. We hope so too. The prize this time is Morbo! Death to humans!
12:34 To close out the panel, it;s time for a SDCC Futurama tradition. A drawing contest between Groening and one of his artists. This time it's Edmund Fong. And since cancellation is coming, this time it's a battle to the death! Groening always wins, even when he doeasn't, so I feel bad for Fong. Groening is pulling out all the stops, a three eyed Bart, Popeye and a NIbbler. Meanwhile, Fong is cranking out Hermes, Amy and Leela. It's intense. When all is said and done, they select their best drawing for the final showdown...
12:39 and, at the last second Groening pulls out a fully finished immaculate drawing of all the characters. Doesn't seem fair and Fong adds a pointing finger and voice bubble saying, 'cheating' to his Hermes. To decide whether or not Groening is guilty of cheating, Zap asks pretty much all the characters to add whether they think he cheated or not. They all think he did, especially Nixon. The sentence, death by Snoosnoo! A great, and sad, way to end. Watch the series finale on Comedy Central in a few weeks.
Your Daily Blend of Entertainment News