Gabriel Byrne To Play Viking In History's First Original Scripted Series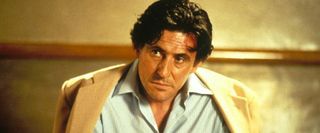 History has been stepping up its game lately. The popular cable channel recently renewed Top Gear, keeping its Top Tuesday block in tip top shape and the channel even has an outstanding preview for upcoming miniseries Hatfields & McCoys rolling every few commercial breaks. The scripted miniseries is the first set to air on the network (after the drama surrounding The Kennedys caused that script to be dropped). While the miniseries looks phenomenal, it has not yet aired, making it a little surprising that the network has already given the go-ahead to its first-ever scripted series.
History has decided to take viewers way back in time, to a world where Viking Ragnar Lothbrok worked hard to become King of the Viking tribes. The historical drama was created, produced, and written by Elizabeth and The Tudors writer Michael Hirst alongside a slew of other producers, including Morgan O'Sullivan, John Weber, Sherry Marsh, Alan Gasmer, James Flynn, and Sheila Hockin. Vikings will follow the raids and explorations of Lothbrok as well as the lives of his family and the important members of his Viking troop. The series is not set to premiere until 2013, but History already has a star lined up.
Usual Suspects actor Gabriel Byrne is steering this ship into uncharted territory for the cable network. He'll play Earl Haraldson, a ruler in Lothbrok's territory who wants to take the new leader on politically. Let the clash of the Vikings opponents begin.
TV Blend will keep you posted when we hear more about the upcoming History series. Until then, get excited about Hatfields & McCoys.
Your Daily Blend of Entertainment News