The Game's Charles Michael Davis Lands Key Role In The Originals Pilot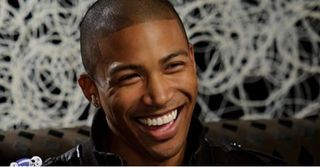 One of the key roles in the upcoming backdoor pilot for The Vampire Diaries spinoff The Originals has been filled. The Game's Charles Michael Davis has joined the cast, which has already signed on several other cast members.
The Originals focuses on an original family of vampires (hence the title) and takes places in modern-day New Orleans, a center of multiple types of supernatural activity and a city that Klaus (Joseph Morgan, reprising his TVD role) once helped to build. Klaus returns to the city where he finds himself reunited with a former protégé of his, Marcel, which is the role Davis has been brought on board to play. Marcel is described as a former street rat with a devious nature and a charismatic personality who has risen to a place of power in New Orleans supernatural circles.
Charles Michael Davis recurred in the Girlfriends spinoff, The Game, as well as on ABC Family's Switched at Birth. He's set to appear on an upcoming episode of Season 2 of The Client List and, additionally, Deadline says he's filming a recurring role for Grey's Anatomy. Now, it seems he's ready for more of a regular role.
Among the other co-stars Davis will be joining in the pilot are Vampire Diaries stars Daniel Gillies and Phoebe Tonkin, both reprising their Vampire Diaries roles, as well as Daniella Pineda, whose credits include an appearance on Homeland. The spinoff was written by Vampire Diaries co-creator Julie Plec, and will assumedly have the same tone as the original series.
The pilot will air as an episode of The Vampire Diaries on April 25th.
Your Daily Blend of Entertainment News