Game Of Thrones Episode 7 Preview: A Lion Of Lannister Has Some Tricks Up His Sleeve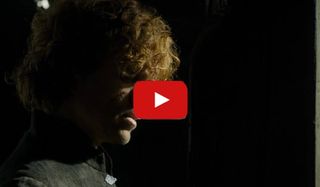 This should go without saying, but if you haven't caught last night's brand new episode of Game of Thrones, you should really avoid watching next week's preview and reading our speculation, below.
It seems crazy and somewhat unfair to realize we have already reached the latter half of Game of Thrones' fourth season. The series has told many stories during Season 4, across seas, bodies of land and even on both sides of the famed wall. Next week, it looks like we'll be getting a large dose of all things Tyrion, as well as catching up with the lovely and vicious priestess Melisandre, checking in with Sansa's latest captors and having some more "on the road" fun with The Hound and Arya.
Honestly, anyone who isn't the most interested in Tyrion's story right now should probably not own up to that fact. Tyrion has been put on trial, a trial his brother Jaime called "a farce" during episode 6. Like the good-hearted brother he is, Jaime pulled some strings and got his father, Tywin, to show Tyrion a little mercy. However, once Tyrion's lover Shae showed up and spread lies about her former beau, Tyrion was angry, and used his skill with words to make an eloquent, if foolhardy, speech. At the end of the episode, the man demanded a trial by combat, and it seems we'll have that to look forward to next week. In the new preview, Jaime is pretty angry with Tyrion, but Tyrion basically tells his brother not to count him out.
There are also a ton of plots carrying on outside of King's Landing. The Game of Thrones preview devotes plenty of time to Littlefinger and Sansa. Littlefinger seems to be letting the Stark daughter in on his plans for "revenge". He's treating her kindly, and if it weren't for Lysa, her new captors would be a step up from her Lannister captors. However, because Littlefinger has shown a devotion to the young lady, Lysa has accessed the crazy part of her personality and is happy to torment the girl. It's been cringeworthy to see Sansa bullied over the years, and I'd be perfectly content to see her get a semi-happy ending, but next week's preview shows that the young lady is a far way off from any sort of pleasant life.
I don't mind jumping into Stannis' world, especially when Ser Davos is involved. The man is an upstanding gent. He's stable and interesting to boot. Unfortunately, Stannis and Melisandre have way more character flaws, and because of this, their storylines are often a whole lot more unlikable. Next week, we'll be catching up with Melisandre, who looks to be busy concocting some sort of plan. Erstwhile, The Hound and Arya seem to be having a spat and Dany is still attempting to figure out how to deal with the demands of running a kingdom. It's a harsh world our Game of Thrones characters live in, but it's one worth catching every step of the way.
HBO's Game of Thrones currently airs on Sunday nights at 9 p.m. ET. You can check out other content related to Game of Thrones over at HBO's site or take a look at our recap of this week's episode.
Amazing Race & Top Chef superfan with a pinch of Disney fairy dust thrown in. If you've created a rom-com I've probably watched it.
Your Daily Blend of Entertainment News
Thank you for signing up to CinemaBlend. You will receive a verification email shortly.
There was a problem. Please refresh the page and try again.