Game Of Thrones Recasts Rorge Plus A Sitcom Spin-Off With Tyrion and Bronn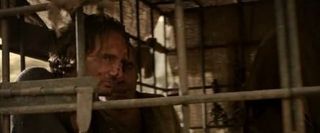 Game of Thrones is constantly casting. And really, there's just no way around that because, not only is the series notorious for killing off characters but also, as the show continues, the world and the number of characters we begin to follow expands almost exponentially. Another few have joined the 'Song of Ice and Fire' series and as a bonus, there's a mash-up for Tyrion and Bronn's sitcom spin-off One and a Half Man. Yep.
So, you thought there were a lot of people to keep track of in the first season of the HBO fantasy adaptation of the acclaimed George RR Martin series? Just you wait, by Season 3 you'll need charts and graphs. The newest casting news is actually re-casting news as Rorge, the nose-less outlaw briefly glimpsed in the finale of the first season, will now be played by Andy Beckwith who I remember most as a heavy in Guy Ritchie's Snatch.
The news first broke on winter-is-coming.net where, after a little digging, they're confident that the news is legit noting that the actor is "repped by Shepperd-Fox, and unless someone screwed with their website (and Beckwith's page), this is legit." Beckwith certainly looks the part, once they chop off his beak, that is... I wonder how far they'll go with the prosthetic? I hope they use The Salton Sea as a starting point.
Now, for a little fun, you can watch the 'Buddy Comedy Version of Game of Thrones' (via Vulture) that debuted a few months back. One and a Half Man. Hm. I'd probably watch it, would you?
Other recent additions for Season 2 include: Natalie Dormer as Margaery Tyrell, Stephen Dillane as Stannis Baratheon, Carice van Houten as Melisandre, Gwendoline Christie as Brienne of Tarth, Liam Cunningham as Davos Seaworth, Gemma Whelan as Yara Greyjoy, Tom Wlaschiha as Jaqen H'Ghar, Roy Dotrice as Pyromancer Hallyne, Hannah Murray as Gilly. Oona Chaplin as Jeyne, Ben Crompton as Dolorous Edd, Michael McElhatton as Roose Bolton and Patrick Malahide as Lord Balon Greyjoy, Lucian Msamati as Salladhor Saan, Daniel Portman as Podrick Payne. That's a lot of characters...
Game of Thrones will return to HBO Sundays in the spring of 2012.
Your Daily Blend of Entertainment News
Thank you for signing up to CinemaBlend. You will receive a verification email shortly.
There was a problem. Please refresh the page and try again.