Game Of Thrones Season 4, Veep, Silicon Valley And Other HBO Premiere Dates Set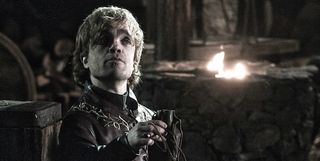 At last, Game of Thrones fans now have an official return date to set on their calendars or apps or whatever the kids are using these days to mark dates. HBO announced today that Season 4 of the fantasy drama will debut Sunday, April 6. Winter is coming about a week later than it did for Season 3, but not such a huge delay that we need to complain, right? HBO also announced premiere dates for Veep, Vice and the debut of their new series Silicon Valley.
Here are the dates HBO announced today:
Game of Thrones Season 4 - Sunday, April 6 at 9:00 p.m. ET/PT.
Veep Season 3 - Sunday, April 6 at 10:00 p.m. ET/PT.
Silicon Valley series premiere - Sunday, April 6 at 10:30 p.m. ET/PT.
Vice Season 2 - Friday, March 14 at 11:00 p.m. ET/PT.
Doll & Em series premiere - Wednesday, March 19 at 10:00 p.m. (2 half-hour episodes airing back-to-back, followed by two eps on March 26 and April 2).
The Leftovers series premiere - Coming Summer 2014 (no official date set yet).
The Normal Heart HBO movie from Ryan Murphy - Airing in May (no specific date set.
Olive Kitteridge miniseries from Tom Hanks' Playtone productions - Debuting "later this year."
Boardwalk Empire fifth and final season - Airing this fall.
While Game of Thrones's return is likely to be the most obvious big seller here, as fans of George R.R. Martin's series of books are surely eager to see how the HBO series tackles the continuing fantasy drama, HBO has some promising new projects on the horizon, among which is Silicon Valley, which is a new comedy series from Mike Judge (Office Space, King of the Hill) and promises Judge's irreverent brand of humor as it looks at "the modern-day epicenter of the high-tech gold rush, where the people most qualified to succeed are the least capable of handling success." That's set to debut in April along with the returns of Game of Thrones and the underrated political comedy Veep.
Coming later in the winter is news magazine show Vice, which will be back for its second season in March. Also premiering in March is Doll & Em, a 6-episode comedy series starring Emily Mortimer and Dolly Wells, who also wrote the show, which uses semi-improvised comedy to "explore what happens when a Hollywood actress hires her childhood friend as a personal assistant." This relationship unsurprisingly involves some unexpected complications and twists, which one might expect when one friend becomes the boss of the other.
Moving on to more serious matters, we have The Leftovers, which is Damon Lindelof's new series, based on Tom Perrotta's novel. The story is set in the aftermath of a strange event that caused 2% of the world's population to up and vanish into thin air without any explanation. Society doesn't exactly collapse, but it's rocked to its core as people struggle to try to make sense of it, wondering why they were left behind and what's become of their missing loved ones. Justin Theroux stars as Kevin Garvey, a father, husband and chief of police who's doing his best to keep his life and work level in the wake of the rapture-like event. The cast also includes Liv Tyler, Amy Brenneman, Christopher Eccleston, Charlie and Max Carver, and Carrie Coon. We'll hopefully hear a date for this one as Summer approaches.
On the miniseries front, HBO has Olive Kitteridge starring Frances McDormand and Richard Jenkins, set to debut sometime later this year. Here are the details on the miniseries, which is based on Elizabeth Strout's novel.
Bill Murray's among the supporting cast for that one.
Finally, we have Ryan Murphy's movie The Normal Heart, which features an all-star cast including Mark Ruffalo, Matt Bomer, Taylor Kitsch, Jim Parsons and Julia Roberts, and is expected to air in May.
Your Daily Blend of Entertainment News
Thank you for signing up to CinemaBlend. You will receive a verification email shortly.
There was a problem. Please refresh the page and try again.