Game Of Thrones Tops Most Illegally Downloaded TV Shows List, Again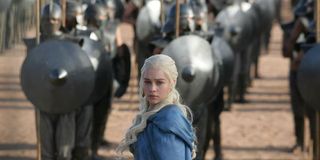 The good folks at TorrentFreak have compiled their list of most illegally downloaded shows. The company does this once every few months, with the winter list topped by Game of Thrones and featuring the likes of Dexter, The Big Bang Theory, Homeland, and Breaking Bad. During the spring, however, some of the most torrented shows remained the same, while others fell well off of the list.
Interestingly, Game of Thrones topped the list the last time these rankings were put together and has ended up in the top slot this time around, as well. HBO's hit fantasy drama just finished out its third season on the subscription cable network, breaking multiple ratings records for the channel and bringing further prominence to the series. With the explosive last couple of episodes of the series, it's no surprise that people might want to see what they are missing. What is surprising is how many people needed to illegally download the series to get it into that #1 slot.
According to TorrentFreak, which looks at statistics released by BitTorrent tracker as well as other sources to achieve their numbers (although some forms of downloading are harder to track and thus not included). From March to June, Game of Thrones nabbed at least 5.2 million illegal downloads. This is an especially high number when you factor in that U.S. viewers only total 5.5 million individuals. Factoring in uncounted outlets, more people may be downloading the series than actually paying to watch it in the States.
With that logic, it might seem more likely that this list would be highly populated by the more expensive cable or subscription cable programming. However, that doesn't seem to necessarily be the case. While some cable shows, including AMC's Walking Dead and History's Vikings do make the list, the other seven shows rounding out the top ten this time around are all network programs.
Following Game of Thrones in the #2 slot is CBS' The Big Bang Theory, which was tracked at 2.9 million downloads. A third place finish went to CBS' How I Met Your Mother, with 2.85 million counted downloads. Rounding out the top 10 was The Walking Dead (2.7 million), NBC's Hannibal (2.1 million), Vikings (1.9 million), the CW's Arrow (1.85 million), The CW's The Vampire Diaries (1.8 million), ABC's Modern Family (1.75 million), and ABC's Revenge (1.7 million). For some of these programs, the downloads may represent a significant number of the audience, but for others, the illegal downloads could prove to be a boon for the future.
Take the case of NBC's Hannibal, for example. Hannibal premiered to great reviews on the network, but with an April release date and episodes running into the summer TV season, the show frequently only earned a little over 4 million total viewers an episode. NBC eventually still signed on for a second season of the series, but perhaps the download numbers will be reflected in the regular ratings when the drama returns in 2014. Sometimes people are hesitant about watching new programs, fearing cancellation, and may just be wanting to catch up before the second season airs. The same might hold true, then, for Vikings and Arrow.
Or maybe I'm being optimistic. Either way, the most downloaded list is a fascinating microcosm of what shows are trendy and getting great buzz, and you should keep your eyes peeled for Torrent Freak's next list in a few months.
Your Daily Blend of Entertainment News
Reality TV fan with a pinch of Disney fairy dust thrown in. Theme park junkie. If you've created a rom-com I've probably watched it.