Games of Thrones Theme Gets An 8-Bit Remix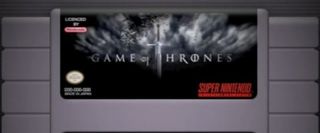 I know we've been talking a lot about Game of Thrones lately (and why not? it's incredible) but, with the season reaching its finale this Sunday, this might be our last chance to gush about the HBO fantasy for a little while. It's not only a great show but it has probably the best opening titles since Lost and a catchy theme song to boot. Well, someone decided to make the theme a bit catchier... actually, 8 bits catchier.
If you haven't already stumbled upon this 8 bit rendition of the Game of Thrones theme on YouTube (and judging by the measly view count, you haven't) it's definitely worth a listen. The best part might be the background art. Putting the show's logo on an old SNES cartridge, genius (although, to be fair, the SNES was 16-bit and the original Nintendo was 8). I'd play that game... of... thrones. Wow, I'm lame.
Enjoy.
Game of Thrones airs Sunday night at 9:00 p.m. ET on HBO.
Your Daily Blend of Entertainment News
Thank you for signing up to CinemaBlend. You will receive a verification email shortly.
There was a problem. Please refresh the page and try again.