The Getaway Gets A Full Celebrity Lineup Including Joel McHale, Aziz Anzari And More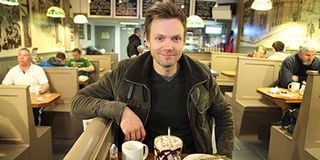 We've known for a while that G4, a network that rose to prominence for video game reviews and Olivia Munn, is rebranding its image. The official switchover from G4 to The Esquire Network will occur on September 23, 2013 and with the rebranding will come a slew of new programming meant to remake the network into a channel that targets the sophisticated male, rather than the average gamer. One way the network will attempt to target a new demographic is via The Getaway, a travel program featuring celebrities exploring cities. On Friday, we finally learned which celebrities are planning to appear in the first season of the new series, as well as some of the other original programming The Esquire Network has slated to hit the schedule in the coming months.
EW first got the scoop, noting that a slew of NBC regulars have signed on to the getaway, as well as a few random people we can't wait to see travel. If the NBC connection seems weird, it should be, as NBC Universal also owns G4/The Esquire Network. Thanks to the trailer, we've known for a while that Joel McHale, Aisha Tyler, and Eve were all signed on for the series, visiting Belfast, Paris and Kingston, respectively, but the rest of that list is pretty new. In addition to the three celebrities portrayed in the trailer (below), Parks and Rec actor Aziz Anzari is set to head to Hong Kong while his co-star Rashida Jones heads to London, chef José Andrés will head to San Juan, Puerto Rico, 1600 Penn's Josh Gad will spend some time in New York, SNL's Seth Meyers and his brother Josh will go to Amsterdam, The Heat director Paul Feig will star in an episode in Boston, and finally True Blood's Ryan Kwanton will be a part of an episode set in Los Angeles.
Speaking of the trailer, the preview for the series makes it seem like other travel and eating based reality programs, especially of the ilk Anthony Bourdain usually prefers. This shouldn't be a shock, since the series is being executive produced by the chef and travel host, alongside Zero Point Zero Production. In the trailer, we get to see plenty of beer and weird foods being consumed, but for good measure Tyler also talks about the architecture and Eve learns about some weird Jamaican dance moves.
The Getaway is only one program that will be part of the new programming slate to be unveiled starting this fall. The Esquire Network also has plans to air a celebrity-based cooking program called Knife Fight that will be hosted by Top Chef winner Ilan Hall. Brew Dogs will follow Scottish brewers James Watt and Martin Dickie as they take a look at American breweries. Boundless will follow athletes Simon Donato and Paul "Turbo" Treb as they accomplish extreme challenges over a period of five months. Risky Listing seems a little bit like HGTV's Selling New York, but instead of looking at New York real estate on the home end, it will look at the buying and selling of club spaces and bars in the city. Then, we get into some douchier programming.
White Collar Brawlers is basically exactly what it sounds like, following white collar dudes who dislike one another training to box and then getting into the ring at the end of the episode. How I Rock It will look at celebrity's "personal style." Horseplayers will follow dudes trying to make money off of horse races and get rich quick. Finally, the already-forgettable Alternate Route will follow a blogger named Matt Hranek traipsing across America. There's a lot of reality in the network's original content, but not all of it sounds unwatchable. Clearly the big one the network is promoting is The Getaway, and you'll be able to catch the first hour-long episode of the series when it premieres on September 25.
Reality TV fan with a pinch of Disney fairy dust thrown in. Theme park junkie. If you've created a rom-com I've probably watched it.
Your Daily Blend of Entertainment News
Thank you for signing up to CinemaBlend. You will receive a verification email shortly.
There was a problem. Please refresh the page and try again.