New Girl Super Bowl Episode Brings In More Than 25 Million Viewers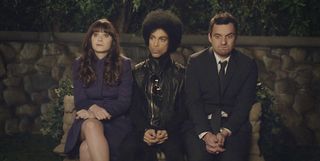 Fox chose to showcase two of their comedies for the coveted post-Super Bowl hour of television that typically benefits hugely from the football game lead-in. Sure enough, New Girl's "Prince" episode brought in a whopping 25.8 million viewers, which is massive, especially by comparison to the show's normal weekly viewership.
EW posted the numbers, noting a significant drop-off between New Girl (25.8 million) and Brooklyn Nine-Nine. The Golden Globe winning series aired immediately after New Girl to an audience of 14.8 million viewers. That's still seriously high for a Fox comedy, and it will hopefully give the series a bit of added exposure as both return to their regularly-scheduled Tuesday night airings.
It was a big episode of New Girl, as Nick and Jess finally addressed the giant L-word in the room, and of course, there was the hyped appearance by Prince for fans to enjoy.
In terms of how both shows fell by comparison to previous post-Super Bowl episodes, New Girl came out ahead of last year's CBS airing of Elementary (20.9 million), but far behind NBC's broadcast of The Voice (37.6 million). No surprise there, given The Voice's typically high ratings in 2012. The last time Fox hosted the Super Bowl was 2011 and on that night, the post-game Glee episode took in 26.9 million viewers, so Fox is down a smidge from their last go-round, especially when factoring in the drop-off from New Girl to Brooklyn Nine-Nine. I suppose that's a downside to airing two half-hour episodes instead of an hourlong show. While there is probably some loss of viewers from the first half-hour to the second with an hour-long drama, factoring in people who are too tired or game-fatigued to keep watching, it seems probable that the retention rate would still be a bit higher for hour-longs.
The most viewed episode among EW's list is the 2010 airing of Undercover Boss, which took in 38.7 million viewers. Speaking of four years ago, as we reported earlier, last night's Super Bowl was the lowest rated Super Bowl since 2010. So it seems Fox's post-game celebration will be a tepid one, but given the score, I'd say they still came out ahead of the Broncos. (Sorry Bronco's fans).
In the meantime, in addition to having the opportunity to bring New Girl and Brooklyn Nine-Nine to the attention of millions of Super Bowl viewers, the game also gave Fox a platform to advertise some of their anticipated series, including Cosmos and 24: Live Another Day. Watch the excellent Jack and Chloe teaser below:
And you can enjoy my brief but whacky GIF recap of the spot here.