Girls Casts The Good Wife's Rita Wilson And Saturday Night Live's Colin Quinn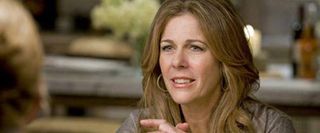 HBO's Girls usually keeps a tight lid on its casting information, but today, Lena Dunham's hit show has loosened that lid a bit and announced a few tidbits of casting news. Both Rita Wilson and Colin Quinn will be heading to the comedy, although it's hard to tell exactly what sort of role each will play.
TV Line first reported the news, squeezing out the detail that Wilson will play Marnie's mom on the show. Wilson has most recently come off a role in The Good Wife, where she played an aggressive lawyer fighting cases against the Lockhart & Gardner firm. We don't know exactly how Marnie's mother will pan out, but if she's anything like her daughter, she'll be highly detail oriented and serious.
Quinn—who is probably best known for his work on Saturday Night Live, will also appear in the HBO program's second season. There's no news on what sort of character he will play, but the actor did confirm yesterday via Twitter that he was already shooting for the series.
We've still got a few months before the Girls Season 2 premiere airs, but at the very least we know the cast is shaping up nicely, with Donald Glover and Patrick Wilson also already cast for guest starring roles. TV Blend will keep you posted on any new casting announcements that waft our way before Girls returns to the air in January. I'm hoping someone will slip and inadvertently let a prime detail, because we know Dunham won't be opening her mouth anytime soon. It's impressive, really.
Your Daily Blend of Entertainment News