Glee Season 4 Watch: The Role You Were Born to Play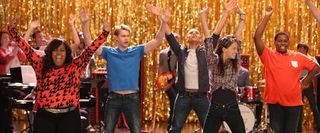 Gleeks, in last night's episode, Grease was the word as auditions began for the annual musical, and the competition was fierce for the roles of Sandy and Danny. Plus we got confirmation that "Blurt" are indeed kaput! Let's recap, shall we?
Grease is the word
Artie wheeled on over to the Hummel Auto Shop to recruit Finn to help direct McKinley High's musical version of Grease!. At first Finn didn't want to, but after Artie threatened to hold the musical hostage, Finn agreed. And Artie brought back Glee favorites Mercedes and Mike! Yay! (However Tina wasn't pleased to see Mike.)
Blurt update
We learned that Kurt returned an unopened box of The Gilmore Girls, effectively ending any hopes of reconciliation with Blaine. So heartbroken over the break-up, during his musical audition Blaine is unable to accept the role of Danny Zuko and instead requests the smaller part of Teen Angel. (Got to admit Blaine does have the hair for Teen Angel.)
Unique is Rizzo
After delivering a fantastic audition, there was no doubt in my mind that Unique was perfect for the role of Rizzo. However, Sue Sylvester was having none of that. She wouldn't stand for gender-bending role playing, claiming it opened the door for Unique to become a Cheerio. (WTF?!?) So, kudos to Finn when he wouldn't back down to Sue's threats, and he proceeded to offer the part of Rizzo to Unique. During that moment between Finn and Unique, it was pretty emotional especially when Wade/Unique said the following:
"I don't feel right in the men's locker room, but I can't go into the girls'. And I don't feel right in men's clothing, but I can't wear dresses every day. It sucks to never know your place. It's just nice, for once, to feel like I've found one."
I think everyone can relate to feeling out of place. It may not be to the same magnitude that Unique is experiencing, but we can all empathize.
Counselor Beiste
Also feeling out of place was Emma. Coach Beiste called Emma out on not really wanting to go to Washington with Will. Taking Beiste's advice, Emma cooked up a storm and then finally admitted to Will how she really feels. Surprisingly Will understood and said they'd work it out. Wow this couple has come a long way.
The "R" Word
I know Sue can push people's buttons but even I was shocked when Finn called Sue's baby daughter retarded. Although Finn apologized, some words just can't be taken back.
Finn finds his role/place
With Mr. Schue's impending sabbatical looming, he asked the question we all knew was coming, "Finn, will you teach Glee?" And Finn accepted! Perhaps now Finn will have sense of direction and purpose and enroll in college down the road to get a teaching degree. I'm also looking forward to Finn mentoring Ryder, who btw has a pretty good voice and is easy on the eyes.
The Grease cast list
I thought the casting for Grease was spot on. I can't wait to see Sam's take on Kenickie. LOL
Kenickie: Sam
Rizzo: Unique
Frenchy: Sugar
Patty Simcox: Kitty
Putzie: Jake
Doody: Joe
Teen Angel: Blaine
Cha-Cha: Brittany
Jan: Tina
And the roles of Sandy and Danny go to....
Ryder scored the role of Danny and Marley the role of Sandy. Who else LOL-ed when Kitty screamed, "Who the hell is Patty Simcox?" Anyone familiar with the movie Grease can see the physical resemblance between Patty and Kitty, right down to the curly blonde ponytail. But I'd say Kitty is more of a bitch than Patty was. Hmm and Jake didn't look pleased. Maybe now he'll really pursue Marley? Although I have to admit Ryder is growing on me, and I'd prefer to see Marley with him.
LOL Moments
When Ryder complained he hadn't seen The Dark Knight yet, I loved his teacher's response, "Oh, it was good." I also laughed when Finn explained he was trying to figure out how to make a car fly on stage.
Memorable quotes
Artie: "Wow. I've never seen Blaine so...Masterpiece Theatre."
Sam: "'Greased Lightning' is my cell phone ringtone and I've been knocked out by a car door before, so I was really looking forward to recreating the reality of that moment on stage."
Finn: "Okay, we need to do that thing where we call people back. What's that called?" Mercedes, Mike, and Artie: "Callbacks."
Music featured
"Hopelessly Devoted To You"
"Born to Hand Jive"
"Greased Lightning"
"Look at Me, I'm Sandra Dee"
"There Are Worse Things I Could Do"
"You're the One That I Want"
"Summer Nights"
Gleeks, next week we see the musical in action and catch up with Kurt, Rachel and Cassandra in NYC, plus it looks like Santana is back too! Could Brittany and Santana be getting back together? *fingers-crossed* See you next week!
Your Daily Blend of Entertainment News
Thank you for signing up to CinemaBlend. You will receive a verification email shortly.
There was a problem. Please refresh the page and try again.