Greg Garcia Moving To CBS TV Studios, Will Remain Showrunner On Raising Hope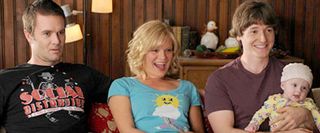 Greg Garcia has done some really great work pitching ideas for Fox studios. Despite my favorite Garcia program actually appearing on NBC--which was potentially not the best place for the Jason Lee-led comedy as the network canceled My Name is Earl unexpectedly-- Garcia has pitched ideas for Twentieth Century Fox TV for 14 years, which is a pretty extensive amount of time. Even though the producer/writer has had various successes creating ideas for Fox studios, including consulting work on Family Guy and creating and producing My Name Is Earl and Raising Hope, Garcia is ready to pitch ideas to a brand new network.
Garcia has eked out a deal to work with CBS TV Studios for the next four years. It's probably a big win for CBS TV Studios to nab somebody with such a weird voice and creative outlook, but does the studio change mean anything for the producer's current show over at Fox? According to Deadline, Garcia will stick around as showrunner during Raising Hope's upcoming third season, which is absolutely ideal news on the short term.
Regarding the long term, however, it could mean bad things for the Fox comedy, which earns great reviews and not a particularly high number of viewers. Garcia input is extremely important to the development of the show, which you can see during the extras on the Season 1 DVD set. If Garcia steps down as showrunner after next season, I can easily envision Fox putting the kibosh on the quirky comedy. Maybe that's good news for Garcia, who can move on to new and possibly stranger concepts, but that makes me with my love for Sabrina, extremely sad.
Your Daily Blend of Entertainment News
Thank you for signing up to CinemaBlend. You will receive a verification email shortly.
There was a problem. Please refresh the page and try again.