Grey's Anatomy Future Looks Secure Despite Star Expiring Contracts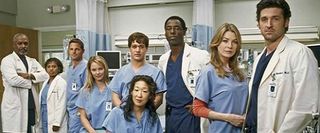 Grey's Anatomy fans can breathe easy – it doesn't look like the show is going anywhere. Despite uncertainty over the presence of main cast members, ABC feels confident in the future of its hit drama, and made it clear in TCA panel discussions this morning that there are no plans to say goodbye to Grey's no matter what happens with upcoming contract negotiations.
The Hollywood Reporter shared the good news from the TCA discussion this morning, quoting ABC bigshot Paul Lee's promise that the venerable drama is "creatively still at the top of its form." ABC sounds confident that the series can survive beyond the end of the season, when decisions regarding the future of the cast will have to be made.
Sandra Oh, Patrick Dempsey and Ellen Pompeo are among the central cast members whose contracts will be up come the end of the season. There's no word yet on who might be expected to return and who might be taking off the scrubs for good, but apparently ABC isn't worried. It's certainly a strong vote of confidence in the series and its fans that the network believes the loss of one or more of the best-loved characters on the show won't sound the death knell for Grey's.
They're so confident in fact that they plan to use the popular medical drama to launch the political series Scandal, moving the Kate Walsh starring Grey's spin-off Private Practice to the slot after Dancing With the Stars. It sounds like no matter what happens with the cast, ABC expects Grey's to stick around for a while yet.
Your Daily Blend of Entertainment News
Thank you for signing up to CinemaBlend. You will receive a verification email shortly.
There was a problem. Please refresh the page and try again.