HBO Hires Neil Marshall To Direct A Second Season Episode Of Game Of Thrones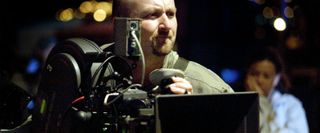 There's not only a influx of talented feature film actors who are turning their sights to premium television as a place to not only find consistent work, but also to find some really well developed characters and interesting narratives. However, the jump isn't being limited to big-screen actors. Many feature directors also want to try their hand at TV. The newest feature director to step up to the premium TV plate? Neil Marshall will direct an episode of the second season of the HBO hit Game of Thrones.
As I mentioned, Marshall will certainly not be the first film director interested in dabbling in television, with names like Martin Scorsese (Boardwalk Empire), Mark Romanek (Locke & Key), and Alexander Payne (Hung) having directed the "Pilot" episodes for their respective shows. Also, one of the reasons Breaking Bad is so consistently amazing is its ability to draw feature directors in for episodes all throughout the various seasons (with David Slade and Rian Johnson immediately coming to mind). It's no surprise why Game of Thrones might want to adopt a similar strategy.
In fact, the show was so successful that the reverse movement also happened... Brian Kirk, a television director who worked on the first season of GoT (among many other HBO projects) was selected to direct the sequel to Marvel's Thor, as well as possibly helming a new Tom Cruise project. Back to Marshall, who really is a perfect fit for the show's aesthetics, themes, and narrative tangents.
THR first reported that Marshall will direct a GoT Season 2 episode, which also marks the Irishman's TV-directing debut. However, while it may be his television debut, you know him as the director of Dog Soldiers and The Descent (I'm going to turn a blind eye to the films that followed). The article added that Marshall "joins Alan Taylor, Alik Sakharov, David Petrarca, and David Nutter as directors for the upcoming season." That's a solid list of filmmakers for a much-hyped upcoming season. They've cut their teeth on shows like GoT, Boardwalk Empire, Rome, The Pacific, and The Sopranos, so I think we're in good hands.
Your Daily Blend of Entertainment News
Thank you for signing up to CinemaBlend. You will receive a verification email shortly.
There was a problem. Please refresh the page and try again.