Hannibal Heads To Comic Con, Psych Gets 2 More Episodes And A Musical Screening At SDCC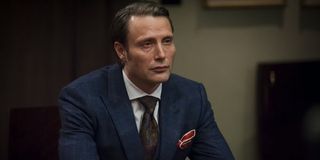 Gaumont International Television is serving up something special for Comic Con attendees this year. The production company announced this week that their NBC series Hannibal will featured in a panel at the San Diego-set event this year. And, unlike just about every other SDCC announcement we've heard for TV shows this summer so far, we actually know exactly when and where this panel is taking place. Also coming to SDCC this year is USA's Psych.
The Hannibal Comic Con panel will take place on Thursday, July 18 from 6:45 p.m. to 7:45 p.m. in Room 6A, which is one of the bigger venues at the convention center, behind Hall H and Ballroom 20. Gaumont's announcement revealed that executive producer Bryan Fuller, director David Slade, executive producer Martha De Laurentiis and star Hugh Dancy will be in attendance. So, it sounds like there won't be any actual Hannibal at the Hannibal panel, as there's no mention of Mads Mikkelsen being involved. That's disappointing, but on the bright side, with the series recently renewed for a second season, fans will surely want to know what's coming next, and Season 2 will be the focus of the panel.
Thoughts of Hannibal at Comic Con make me hopeful that NBC might bring back the food truck featured at SXSW last winter. While there's no word about that, there is a food truck-related update for Comic Con related to a different show. It has to do with one of the possible Psych episodes that could be made for the mystery-dramedy series. USA announced today that Psych be returning to Comic Con for an exclusive midnight screening of Psych: The Musical and a panel for the series, to be moderated by Cary Elwes (The Princess Bride, Robin Hood: Men in Tights). The screening is set for Wednesday, July 17 at 10:00 p.m. at the Reading Cinemas in the Gaslamp District of San Diego. More information here. The Elwes-moderated Psych panel will take place on July 18, presumably at the Convention Center as it has been in previous years, though no specific location was mentioned.
USA has also ordered two additional episodes of Psych, to tack on to its eighth season, and fans will have the opportunity to vote for which one of the three options they want to see made into an episode. Here are the options:
All of them sound great, but I'd go with "Dream Therapy" or "Food Truck." But you can decide for yourself and vote over at USANetwork.com/content/psych-episode-vote. The results will be announced at the SDCC panel.
Your Daily Blend of Entertainment News
Thank you for signing up to CinemaBlend. You will receive a verification email shortly.
There was a problem. Please refresh the page and try again.