Hannibal Season 3 Review: Still A Terrific And Delectable Slice Of Horror Drama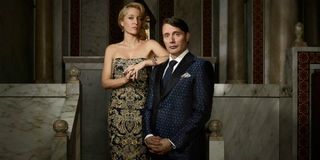 "Nothing happened to me, I happened."
The best TV show of last year is finally back for Season 3 and, judging by the first three installments, it hasn't lost a step. Hannibal didn't just avoid the sophomore slump last year, it put shows that falter after a great first season to shame with a new batch of episodes that somehow improved upon the NBC series' already
[[ href http hannibal-review-bryan-fuller-dark-serial-killer-drama-premieres-thursday-night-54305.html television www.cinemablend.com ]] stellar first course. That's
[[ href http hannibal-season-2-review-second-helping-delicious-first-62549.html television www.cinemablend.com ]] a lot to live up to ( or a 'tall order,' as it were), but Bryan Fuller and his creative team outdid themselves again, delivering the psychological horror's most daring season yet.
So far, of course. As I mentioned, I've only seen the first three episodes of the new season - "Antipasto," "Primavera" and "Secondo" (yes, it's an Italian menu) - so it's hard to claim with certainty that Hannibal will hit the extreme highs of say, last year's jaw-dropping finale, but it does get off to a truly terrific start. Without getting into too much narrative detail - because nobody wants the delectable dishes spoiled - the first installment picks up eight months after the events of "Mizumono," leaving its unanswered questions unanswered for a little while longer just to make the audience squirm, something the series does better than another other on the small screen.
Actually, now that I think about it, there really isn't too much I can give away, as a shift to Hannibal's point-of-view simultaneously narrows the show's narrative scope while Season 3′s exquisite European locations expand it visually. Will Graham spent the first two seasons walking us into Hannibal's tortured mind, and now we finally get a taste of what the series would (or will) be like without the empathetic special investigator holding our hands and softening each murder through his reenactments. Sure, it was pretty creepy to watch our hero commit such brutal acts of violence, but he also served as a buffer between us and the real monster(s). That buffer is gone.
"Antipasto" offers a glimpse at what the future of Hannibal looks like (it's bright) before "Primavera" settles the show into familiar territory with Will taking the lead. "Secondo" strikes a balance with the leading men sharing the screen-time. The series' nifty storytelling structure - where the past, present, future and subconscious exist concurrently - allows Fuller and company to put the bromance back front and center, even though Will and Hannibal are playing cat and mouse (or, more appropriately, Van Helsing and Dracula). What's more, it also unveils who survived the Season 2 finale, and lets them deal with the trauma, one enticing episode at a time.
Will surviving the bloody cliffhanger is all that I'll say about the fate of those Hannibal left for dead, and instead will highlight the horror series' compelling new characters like Fortunato Cerlino as Inspector Pazzi and Tao Okamoto as Chiyoh, both figures from Dr. Lecter's past who hope to have an impact on his future. And, according to the casting reports, there are several more exciting additions (as well as returning characters) to come: most importantly, Richard Armitage's Red Dragon.
Good luck to them. We all know what happens to those that meddle in the good doctor's affairs. It's part of why we tune in every week and, don't worry, the three episodes I've seen are not lacking in Hannibal's signature gruesome moments. Or its beautiful compositions, for that matter, with James Hawkinson still on as the series' cinematographer and Vincenzo Natali and Neil Marshall taking over from David Slade as the go-to directors for the third season. It's a visual feast, and Brian Reitzell's score continues to compliment the complex and sumptuous imagery like the perfect bottle of wine.
As I said it in my review of NBC's Aquarius, I wish Hannibal was the series the network picked as the binge model test subject. I want to devour it all. Perhaps it's better this way, though. A series this rich shouldn't be rushed, it should be savoured.
Hannibal returns with its third season premiere Thursday, June 4 at 10:00 p.m. ET on NBC. Created by Bryan Fuller (and based on "Red Dragon" and "Hannibal Rising" by Thomas Harris), the series stars Mads Mikkelsen, Hugh Dancy, Gillian Anderson, Caroline Dhavernas, Kacey Rohl and Laurence Fishburne. Season 3 also features Richard Armitage, Rutina Wesley, Tao Okamoto, Fortunato Cerlino, Joe Anderson, Glenn Fleshler and Nina Arianda.
Your Daily Blend of Entertainment News