Hannibal's Incredible Season 2 Finale Delivered More Questions Than Answers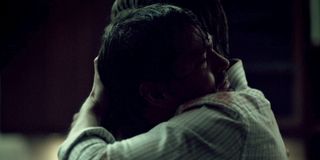 Before discussing the insane and incredible second season finale, let's take a second and pretend that NBC didn't renew Hannibal for a third. Yes. Bryan Fuller was willing to let that bonkers finish be the last episode of the entire series. And it's exactly that kind of uncompromising vision that makes his adaptation of Thomas Harris iconic character a standout on the small-screen. It's as compelling and original as the best cable shows but somehow exists on network TV. To be fair, there aren't many so called 'prestige series' that would end a season in such risky fashion, especially if they thought it could be their last. Okay, pretend time is over and we can resume looking forward to the further adventures of Hannibal. As for who is left to chase him? Well, that's still up in the air.
This is the song that came to mind when the blood was settling in the finale's final moments. Enjoy it while you read the rest of the breakdown...
Fitting, right? "I love to go out fishing, in the river or a creek. But I don't enjoy it half as much as dancing cheek to cheek." Fishing the the creek? Will and Hannibal cheek to cheek. And I couldn't have been the only one who thought the smash-cut to the clouds from our dying heroes suggested an ascension to heaven. Yeah, I don't think all four of Dr. Lecter's victims are going to make it to Season 3. If I was a gambler, I'd put money on this being the last time we see Kacey Rohl's Abigail Hobbs alive.
Of course, I thought she was already dead until last night's reveal (well, technically I had suspicions after Anna Chlumsky's Miriam Lass made her return) but this time it truly feels final. Hannibal was keeping her around for his best, and only, friend as a reward for his murderous transformation in the hopes that the three could become an untraditional family. However, Will's betrayal put an end to that warm and fuzzy idea and Hannibal punished him by once again taking the surrogate daughter away. This time for good. I think. He couldn't put the teacup back together.
And the fate of the other three left for dead? I'm assuming Will survives the attack because his story in the books is far from over and his character's relationship with the titular villain is the driving force behind Hannibal. I loved the shot of him with his face half covered with blood watching the Ravenstag takes its last breaths. Jack Crawford is also a central character in Thomas Harris' novels (even more so than Will Graham) and I'm pretty confident he too will make it out of Season 2 alive. And Alana, well, her role on the series is much larger than her literary counterpart which might suggest she's the most at risk of not returning.
But who knows? Bryan Fuller loves to toy with the source material to make us question what we think we know. What we know for sure (thanks to the post-credit Season 3 tease) is that Hannibal has managed to escape capture and board a plane bound for Europe (?) with his former psychiatrist, Dr. Bedelia Du Maurier. Her sitting next to him on the flight was definitely something I did not see coming but I am excited that it means more Gillian Anderson next season. How did she go from narrowly avoiding being another victim (remember, Hannibal went to her place in his plastic suit) to an accomplice? And why no champagne? Are they related? So many questions left unanswered. I guess we'll just have to be patient.
Hannibal will be back for Season 3 sometime early next year on NBC. Created by Bryan Fuller (and based on Thomas Harris' "Red Dragon"), the series stars Mads Mikkelsen and maybe Hugh Dancy, Caroline Dhavernas and Laurence Fishburne.
Your Daily Blend of Entertainment News