Heroes and Ugly Betty's Charlie Will Be Pushing Daisies This Fall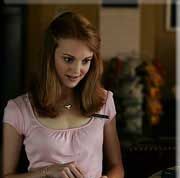 Jayma Mays is everywhere lately. Last season she could be seen playing a girl named Charlie in NBC's Heroes and ABC's Ugly Betty. Now it looks as though she'll be making an appearance in the new ABC series, Pushing Daisies. Will her character's name be Charlie in this one too?
Not according to E! Online's Kristin Veitch. In her gossip blog, Veitch says a reliable source tells her that Mays will be playing a character named Elsita, a girl who lives and works in a windmill (weird.) in the fourth episode of the new series.
Prior to her recurring roles in Hereos and Ugly Betty, Mays appeared in Entourage, Studio 60 on the Sunset Strip, Stacked, How I Met Your Mother and House. Most people probably wouldn't remember seeing her in any of those shows unless they happened to notice her recently in a rerun. It wasn't until she started playing Hiro's doomed almost-girlfriend in Heroes and Betty's almost-boyfriends' not-quite-ex-girlfriend in Ugly Betty. While its unlikely that her character will be returning to Heroes (then again, pretty much anything can happen in that show, right?), her character was part of the cliff hanger ending to the season 1 finale of Ugly Betty so there's a good chance we'll see her back on Betty at some point in the fall. However, Veitch did say she's been MIA on the Betty set due to working on Pushing Daisies so exactly when we'll see Charlie in season 2 of Ugly Betty appears to be unknown at this point.
Pushing Daisies centers on a guy who has the ability to bring people back from the dead. It premieres on ABC on Wednesday, October 3rd.
Your Daily Blend of Entertainment News