Homeland's Marin Ireland Joins AMC's The Killing For Season 2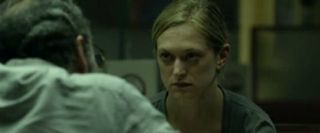 AMC's The Killing had one of the most interesting first seasons of television in recent years. And not just in terms of the action on the screen. Rarely have shows opened to such critical acclaim, only to frustrate almost everyone into submission. In fact, in an odd coincidence in terms of today's casting, many critics were using the murder mystery's title as a verb when discussing Showtime's fantastic debut Homeland, hoping that the promising series wouldn't pull "a Killing" and go drastically downhill from the impressive start.
However, it is rather impressive that the show managed to live to tell the tale, or continue to tell Rosie Larson's tale, even after such critical backlash. Now a Homeland cast member is coming aboard for the second season of The Killing. TV Line reports that actress Marin Ireland, who portrayed the American-born terrorist Aileen Morgan in a few episodes of Showtime's Homeland, will join the AMC drama as Detective Holder's sister. Ireland is probably best known for her role on the Showtime thriller but she also has a recurring role on CBS' A Gifted Man.
Her character's name is Liz and, not unlike her brother (played by the excellent Joel Kinnaman), she's described as a tough, blue-collar woman who doesn't take any shit, especially from Holder. That last part is especially interesting considering the cliffhanger The Killing left us with at the end of the first season. No spoilers, but let's just say he definitely needs someone to keep him in line, and another person snooping around his personal life may cause the detective a few problems (and give the show some added drama). If you didn't watch the first season of The Killing, you can catch up when it comes out on DVD/Blu-ray on March 13th, just in time to prepare for the second season premiere a few weeks later.
The Killing returns on Sunday, April 1st at 8 pm ET on AMC. It stars Mireille Enos, Joel Kinnaman, and Billy Campbell. Veena Sud adapted it for American television from the award-winning Danish series of the same name (Forbrydelsen).
Your Daily Blend of Entertainment News
Your Daily Blend of Entertainment News
Thank you for signing up to CinemaBlend. You will receive a verification email shortly.
There was a problem. Please refresh the page and try again.