Homeland And Masters Of Sex Both Renewed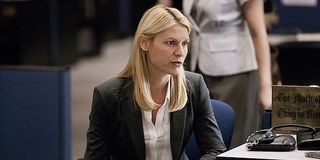 It looks like Showtime is pleased with the dramas they have lined up for Sunday night this fall, as the premium cable channel has officially renewed both Homeland and freshman drama Masters of Sex. That's a greenlight for a fourth season for Homeland and a second season for Masters of Sex.
Masters of Sex is bringing in about a million viewers per episode on Sunday nights, which is a bit under what Homeland was doing in its own first season back in 2011. While Season 2 of Homeland was bringing in more than two million viewers per episode by the end of the season, its third season's numbers have settled in the 1.8 million viewer range. Those numbers seem low, but this is premium cable, where a subscription is required for people to tune in, and where on demand and encore viewings could play a bigger factor in the true viewership of a series. The fact that both series are holding steady among viewers this season may have been a deciding factor for Showtime. Both series have aired four episodes of their respective seasons so far, with eight more to go before they wrap up in December.
Homeland comes from Howard Gordon and stars Claire Danes as Carrie Mathison, a CIA officer who found herself getting a bit too close to the man she suspected might be a terrorist. I am, of course, referring to Damian Lewis' Nicholas Brody, a U.S. Marine Corps Sniper who became a prisoner of war, and was eventually rescued and brought back to the States. In the first season, it's Carrie who suspects Brody may have been turned, though no one believes her. It doesn't help that she has some mental health issues that make her a bit emotionally unstable. Season 3 picked up this fall with Brody a wanted man on the run, and Carrie under investigation.
Here's the preview for Homeland's next new episode, "The Yoga Play" (Season 3, Episode 5):
Masters of Sex made its debut at the end of September. The series comes from Michelle Ashford and is inspired by the life and work of pioneering researchers Dr. William Masters (Michael Sheen) and Virginia Johnson (Lizzy Caplan). The series premiere picked up with the start of their partnership, as Masters attempted to further his research of human sexuality, though his university was hesitant to take this study seriously. The drama is split a bit unevenly between the personal lives of both Masters and Johnson, and the work they're doing, which takes an especially candid approach to the subject of sex, though the actual content is a bit more subtle than you might expect. If you haven't seen it yet, the first episode is available online here.
Here's a preview for next week's episode (Episode 5: "Catherine"):
Homeland airs Sunday at 9:00 p.m. ET on Showtime. Masters of Sex airs immediately afterward, at 10:00 p.m. ET.
Your Daily Blend of Entertainment News
Thank you for signing up to CinemaBlend. You will receive a verification email shortly.
There was a problem. Please refresh the page and try again.