Hot In Cleveland Renewed, Cedric The Entertainer Spinoff Picked Up To Series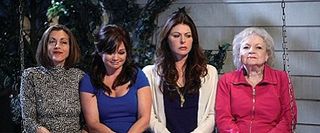 Betty White is celebrating her 90th birthday, and she has plenty more to celebrate as well; her television career is still going strong. Along with Hot in Cleveland's win for Best Cable Comedy Series at the People's Choice Awards last night, TV Land has renewed the sitcom, promising a fourth season. They've also picked up a spinoff starring Cedric the Entertainer.
TV Land is a small player in the arena of original cable series, but in spite of slowing ratings, Hot in Cleveland is keeping them in the game. It's thanks in no small part to the indomitable Betty White, who is likely responsible for a good portion of the series' viewership. That and the joy of watching aging Hollywood actresses poke fun at themselves. According to Deadline, the continuation of the series into season four is expected to bolster syndication sales. CBS TV Distribution picked up the rights less than a month ago. The new season order will bring the number of episodes for the show up to 70, very impressive for a series that has only been on the air since June of 2010.
Along with the renewal of Cleveland, TV Land has also picked up a spinoff featuring Cedric the Entertainer. It will follow Cedric's character from an August episode of Hot in Cleveland, Reverend Boyce, who moves to St. Louis and finds himself trying to reconcile a colorful past with his new life and congregation. The series will also star Clean House's flamboyant hostess, Niecy Nash.
Betty White's big birthday bash will include a special airing on NBC on Monday. This news must have come as an early birthday gift for the TV icon.
Your Daily Blend of Entertainment News
Thank you for signing up to CinemaBlend. You will receive a verification email shortly.
There was a problem. Please refresh the page and try again.