NBC To Celebrate Betty White's 90th Birthday With A Special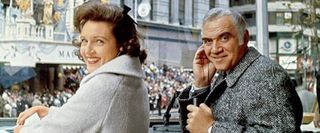 Though she has appeared on programs on many networks, Betty White has been a darling of NBC's for a very long time. If you caught Matt Lauer's special at Thanksgiving, you may have seen flashes of some footage of her at The Macy's Day Thanksgiving parade eons and eons ago. She later got her own show on the network during the fifties, and the eighties saw her continuing at NBC on the hit program The Golden Girls. In the past decade she has appeared in popular SNL sketches, as well as on an episode of Community. With all the love NBC seems to have for White, it's no surprise the network has booked her for a 90th birthday extravaganza.
Betty White's 90th Birthday: A Tribute to America's Golden Girl will air on January 16. The star power appearing during the half hour special is extensive: Mary Tyler Moore, Carol Burnett, Ed Asner, Valerie Harper, Gavin Macleod, Hugh Jackman, Jay Leno, Morgan Freeman, the cast of Hot in Cleveland, Amy Poehler and a ton of other Saturday Night Live cast members, William Shatner, Ellen DeGeneres, Ray Romano, Carl Reiner, Joel McHale, Jennifer Love Hewitt, Vicki Lawrence, and John O'Hurley. With musical performances, birthday wishes, and comedy on the bill, I'm having a little trouble seeing how all of this will fit into just an hour and a half.
The really exciting bonus NBC is offering after the birthday bash is a sneak peak at White's new show with the network. Remember months and months ago when we mentioned White would be getting her own hidden camera show? Contrary to assumption, that's still happening, it will be called Betty White's Off Their Rockers, and you will get your first preview of what the show will look like if you stay tuned after Betty White's 90th Birthday ends. You can check out the full press release over at NBC's site.
So, Happy Birthday, Betty White. We'll see you on January 16 at 8 p.m. ET on NBC.
Your Daily Blend of Entertainment News
Your Daily Blend of Entertainment News
Thank you for signing up to CinemaBlend. You will receive a verification email shortly.
There was a problem. Please refresh the page and try again.