How Chinese People Just Got Screwed Out Of Good TV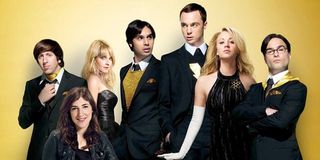 Let's be honest. China has always been a tough market to break into, and the country has only become stricter and stricter in recent months. In fact, China is known for its strict censorship, and this week the country just made it more difficult for foreign TV to be seen by Chinese fans. The State Administration of Press, Publication, Radio, Film and Television announced that all foreign TV shows and movies must have permits in order to be eligible to be viewed by Chinese citizens moving forward. That SARFT really knows how to get in the news.
This isn't the first time that foreign TV shows have been subject to censors or even banned entirely by the Chinese government. Last spring, the big, bad SARFT pulled popular TV show The Big Bang Theory from the widely-used streaming service Sohu, where the show had been viewed more than a billion times. At the same time, three other American shows were pulled from the streaming service, including The Good Wife (shortly after this violent episode aired), NCIS and, weirdly enough, The Practice, a David E. Kelley drama that stopped running way back in 2004. Apparently, it took the Chinese government a whole decade to determine the latter show was unfit for its population, but whatever.
It's not like China is just focusing on foreign TV and entertainment, though. China's increasingly strict regulations extend to the country's own entertainment. The government is into shoving morality codes down its population's throat, and has banned theaters and television stations from running programming featuring actors and actresses who have gotten into trouble with the government. This includes such minor offenses as smoking pot, which came into the news recently when Jackie Chan's kid, Jaycee Chan, was detained for minor drug use, bringing shame and dishonor to his country and family.
Apparently, the new regulations will effect, but shouldn't shut down Chinese streaming services like Sohu. While American TV has saturated markets across the globe, China Daily says foreign content only makes up a small chunk of the content available for streaming. Still, fans who will be affected seem particularly displeased.
The biggest issue will be for diehard fans of American shows, who like to watch them at the same time as others in different countries across the globe. Apparently, the new permit-based regulations will slow down the process of getting Chinese stations and streaming services to accept a show, meaning the Chinese market will be getting a lot of foreign programming much later than other countries. That's obviously not as huge of a problem as it could be, but its still yet another instance of censorship in a country that is already known for censorship.
So here's to freedom, and The Big Bang Theory for everyone.
Amazing Race & Top Chef superfan with a pinch of Disney fairy dust thrown in. If you've created a rom-com I've probably watched it.