How I Met Your Mother's 200th Ep Nails It, Watch Cristin Milioti Win Our Hearts With A Song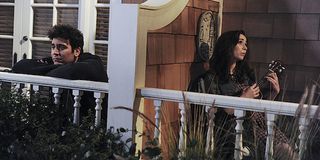 Spoilers if you haven't watched How I Met Your Mother's 200th Episode, "How Your Mother Met Me." (If you haven't seen it yet, you can watch the full episode over at CBS (opens in new tab).)
If ever there was a make-or-break episode of How I Met Your Mother, it was last night's "How Your Mother Met Me," the episode that gave us a proper introduction to the titular mother. Oh, sure, Cristin Milioti has appeared in the series numerous times since she was first introduced to us at the end of last season, but the 200th episode flipped things around, focusing almost entirely on the Mother's background, revealing the numerous times her path nearly crossed with Ted's leading up to this season's never-ending wedding weekend. And as the video below indicates, Milioti's casting was/is perfection for this role. Not only is she beautiful, charming and likable, but she has an enchanting singing voice, which proved incredibly valuable as she crooned a heartwarming (and a little bit heartbreaking) rendition of "La Vie En Rose."
Knowing Milioti's background on the Broadway stage, it's no surprise that she can sing, and as I mentioned, her HIMYM character has already proven to be likable enough. In some ways, she reminds me of a perfect mashup of the best of each member of Ted's group, combined into one woman who's also the perfect fit for Ted. And knowing that "How Your Mother Met Me" would focus on the Mother, I expected to learn more adorable and amusing things about this character that would make her a good fit for Ted. What I hadn't anticipated was how moving the episode would be, taking a break from some of the goofier arcs we've seen this season and setting up the Mother not simply as a single person seeking love in the big city, which in itself would have put her in line with her future husband, but as a heartbroken woman who suffered a great loss and seems to have given up hope that she'll ever find "the next one" after the death of her boyfriend Max.
From the beginning, How I Met Your Mother has been set up with the promise that Ted would eventually meet the woman he was meant to end up with. Factoring in Ted's romantic history, we've been left to wonder what type of woman would be Ted's perfect match, if not any of the other women he's dated, Robin included. Throughout the series, we've gotten to know Ted for all his quirks, strengths and even his imperfections. Getting to know the Mother, it seems as though she's tailor-made to be with him in a way no other previous character has been. But the series took that a step further, not only setting the Mother up to be Ted's perfect match, but setting Ted up to be hers and demonstrating that with an added layer of history and heartbreak to emphasize just how ripe she is to find Ted and to be found by him. They're so ready and so are we.
This season has really been hit or miss for me, and I'm not convinced the season-long wedding weekend was the right approach. But "How Your Mother Met Me" was a major hit in terms of setting up the final act of this long story. Major points to Carter Bays and Craig Thomas for hitting it out of the park for this episode, and to Milioti for every scene, the final one in particular. Her enchanting vocal performance sealed the deal in not only making this one of the best episodes of the series, but reminding faithful viewers of what we've been waiting for for nearly a decade, and making us want to see these two characters connect as the series draws to a close.
Assistant Managing Editor
Kelly joined CinemaBlend as a freelance TV news writer in 2006 and went on to serve as the site's TV Editor before moving over to other roles on the site. At present, she's an Assistant Managing Editor who spends much of her time brainstorming and editing feature content on the site.
Your Daily Blend of Entertainment News
Thank you for signing up to CinemaBlend. You will receive a verification email shortly.
There was a problem. Please refresh the page and try again.