I Am Cait Trailer: Watch Caitlyn Jenner Tell Her Story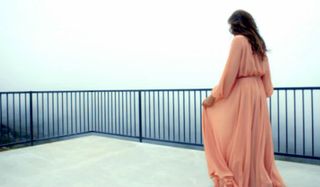 After Caitlyn Jenner's big reveal on the cover of Vanity Fair, her highly anticipated series has been building steam. A few weeks ago the first trailer for the docu-series hit, and focused on the transition from Bruce to Caitlyn. The latest trailer introduces us to Caitlyn Jenner's story, and why she decided to do a series. Check it out.
The eight-part docu-series is scheduled to premiere next month on E! and promises to provide an inside look at Jenner's transition and new adjustments living as a transgender women, specifically in a very public light. Jenner has experienced the limelight as a reality TV star, but now will have to experience it while adjusting to what she terms as "the new normal".
In the latest E! trailer, Jenner explains why she decided to do a series. It's not just to continue that Jenner reality TV stardom. For Caitlyn Jenner, it comes down to so much more. She explains in the clip:
And what does Jenner's story include? Well, it will spend a majority of time exploring what it means to be a transgender woman, and the transitions she has to face adjusting, but also she promises that they are going to do "a lot of fun things for the first time." And those fun things will not only include shopping, and finally feeling comfortable in the clothing she is wearing, but also some fun 'boy stuff' like riding a motorcycle.
From the looks of it, the Kardashian-Jenner family is sure to be included. Maybe the young fashionistas can help Caitlyn Jenner on her shopping adventures as well. Though from this trailer, it looks like she is already stylin'.
It's been about two months since the iconic interview when then Bruce Jenner sat down with ABC News' Diane Sawyer to discuss his upcoming transition. The brave tell-all 20/20 special documented Jenner's decision for her transition. Social media erupted in response, with a record number of Tweets. It was an exposing interview that got fans onboard, wanting to know more of Caitlyn Jenner's journey. So, it wouldn't come as a surprise that I Am Cait is expecting a big viewership. It will run for eight episodes, and is slated to premiere on July 26th at 8:00 pm ET.
Your Daily Blend of Entertainment News
Your Daily Blend of Entertainment News
Thank you for signing up to CinemaBlend. You will receive a verification email shortly.
There was a problem. Please refresh the page and try again.