The IT Crowd Will Call IT QuITs After The BrITish Comedy's Upcoming Fifth Series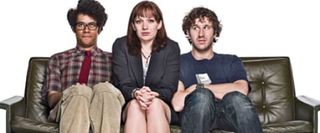 I started watching The IT Crowd about a month ago, and within a week I was impatiently awaiting Series 5 of the British sitcom began. Who knows how long I'll have to wait for it to actually premiere, but it seems like that will also be the last of it... and right after we found out that Osama Bin Laden liked the show (a false rumor started by series writer-director Graham Linehan).
Chortle first reported the story about the series wrapping up, with a few words from Linehan: "I think one more series to really say goodbye to the characters and the fans." It's not really surprising that the show would be wrapping up because it's leads are starting to get too big for the IT (or TV) britches. Series star Richard Ayoade just wrote and directed the indie Submarine, which came out of Sundance with strong reviews and opens this week in select cities. Co-star Chris O'Dowd just appeared in the also well-reviewed, female comedy Bridesmaids, as Kristen Wiig's love interest. And the third co-star, Katherine Parkinson, has like four other series on the go, so she's not short of work.
It will be sad to see the series go, but two things we can look forward to are the bright futures of those involved and that there will never be an American remake... because there already was one and it never aired (starring Ayoade as Moss, Community's Joel McHale as Roy and Jessica St. Clair as Jen). So yeah, at least we have that... Wait? He said what? Another American version is on the way? Ugh.
If you want to catch up on the excellent and funny British version, it doesn't take long because each series (season) is only 6 episodes making the current 4 seasons the equivalent of one American. Math. And best of all, the entire run of the show is available to watch now on Netflix Instant Watch.
Your Daily Blend of Entertainment News
Thank you for signing up to CinemaBlend. You will receive a verification email shortly.
There was a problem. Please refresh the page and try again.