Ian McShane Joins Game Of Thrones Season 6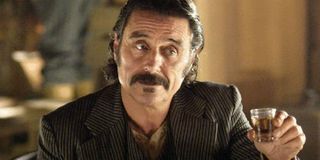 Former HBO star Ian McShane is heading back to the network, joining the Game of Thrones cast. The Emmy-winning British actor will join the fantasy hit series for a minor yet important role during Season 6 of the series. It is unknown the exact role McShane will be taking on as the series has been very hush hush on any key details for the upcoming season, but with the critical acclaim of the actor, we can expect him to add a spectacular performance at the very least.
Entertainment Weekly broke the exciting Game of Thrones news that the Deadwood star would be returning to HBO, and their sources claim that while McShane has a relatively small amount of screen-time during the season his character is "of key importance". Season 6 is a big mystery for all Game of Thrones fans, books and series wise, as the season finale of Season 5 has placed the series on par with the finale of the last Song of Ice and Fire novel. So right now, all we can do is speculate on where McShane's mysterious role may fit in.
A couple months back, a particular character description for a Season 6 casting call caught our attention. The character description read:
If you're a fan of McShane's, you know all of those descriptors fit pretty perfectly with the actor's experience. "Cunning, ruthless, with a touch of madness"—spot on McShane. But who does this character description fit in the world of Game of Thrones? Well, there has been a notable absence of the Greyjoy family in past seasons. And in the Song of Ice and Fire novels, Theon's three uncles play important roles. This description in particular seems very fitting of Euron Greyjoy, a.k.a., Crow's Eye. In the books he is portrayed as a heartless yet cunning taskmaster who makes all those serving on his shop remove their tongues for "Silence". The fourth book of the series A Feast for Crows features a number of critical point-of-view chapters from the Greyjoy brothers which could fill a few gaps in some of the story arcs of the HBO show. Even if McShane's run is small on the show, sources do tease his importance, which could suggest an exploration of the Greyjoy clan.
McShane would have no problem bringing this ruthless role to life. Best known for his TV roles on BBC's Lovejoy and the HBO hit Deadwood, the critically-acclaimed actor also starred in the underrated NBC series Kings as well as playing Blackbeard in Pirates of the Caribbean: On Stranger Tides. Right now, we can continue speculating who McShane will be portraying when Game of Thrones heads back to the small screen Spring 2016, but whatever it may be, we're in for a treat.
Your Daily Blend of Entertainment News
Your Daily Blend of Entertainment News
Thank you for signing up to CinemaBlend. You will receive a verification email shortly.
There was a problem. Please refresh the page and try again.