Interview: Southland's Kevin Alejandro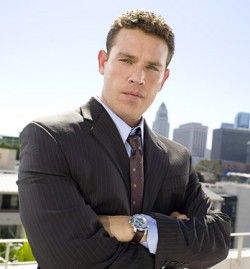 With three weeks remaining until TNT's Southland begins airing the never-before-seen "second season" of episodes produced before NBC canceled the show, I got the opportunity to chat with one of the show's stars. Kevin Alejandro plays Detective Nate Moretta, who's become intertwined with a young crime witness who's life is in danger.
These final three episodes of the original NBC first season see Moretta and his partner Detective Sammy Bryant (Shawn Hatosy) getting pulled deeper into the world of danger this young girl finds herself in. Emotionally torn and officially restricted, it promises to be an intense few weeks for the pair.
Alejandro opened up about his thoughts on Southland, his experiences playing Nate Moretta, his take on how NBC handled the show, and his hopes for the future. We also got the chance to talk briefly about some of his former roles, and through it all, I was struck by his unending optimism and enthusiasm for his work, and this television show.
CinemaBlend: Did TNT make any changes to the episodes that had already aired on NBC [the first seven], now that they have a little more license on TNT.
Kevin Alejandro: I think the biggest difference with moving to TNT was with our premiere episode. We added six or seven minutes to the show that was a little bit edgier, a little darker than we originally had for NBC.
CB: There were reports of some tonal shifts, suggested by NBC, for that what would have been the second season. There was going to be less of an emphasis on the serialized nature and intense continuity. Can you talk a little about what new fans might expect -- now that's it all one season -- when we go from episode seven [the original season one finale] to eight [the original season two premiere]. Will there be a dramatic change that people notice?
KA: It's going to be very subtle, actually. Things continue to unwind and sort of fit together like a puzzle; they just do it over a longer period of time. We'll come back to [plot elements] a little later. The biggest difference between the two seasons is that the next season is just a great great sort of continuation of what we did; it's [just] a lot more explosive. TNT is giving us a lot more leverage with the way it's edited , [allowing us] to use some of the darker images that we weren't able to use on network [television, but] that's necessary to portray what really goes on with these situations.I'm not sure if you know this, but all that's done with such a great amount of research: ride-alongs, fly-alongs, weapons training, and when were shooting these situations, they are actually putting us out there in these [situations]. There's no stage, you know, we're actually in South Central [Los Angeles] driving through 77th division. That's what makes it so real and raw, and I think TNT is allowing us to show more of that.
CB: So, even though those final six episodes were produced for NBC, it sounds like TNT are letting the producers tweak those episodes to make them a little more raw and authentic than what NBC would have allowed.
KA: Yeah, absolutely. They showed their support immediately from the premiere of the season. They allowed some re-edits [of] pictures from the first episode that no one got to see because it was too dark -- too edgy -- for NBC. It's a great home for us, I think. [Everyone is] really comfortable with the change.
CB: TNT has been saying that they're going to base their decision on whether to continue with new episodes at least partially on how these episodes perform in the ratings. Have you guys heard anything as far as how they are feeling now that a few of them have aired, or is it still too early to tell?
KA: I think that it's a little early to tell. You never can really tell the way things are in this industry, but I have heard very positive things with how it's doing with audiences. I think it's done better than some of the great shows, with it being a rerun, so to speak, so I think that gives us sort of a step in the right direction. I think we all have something here, and I think we all are on the same page with the project, so I may be being optimistic, but I think we're in a good place right now.
CB: The cast seems to have been pretty passionate about the show from the beginning. You wrapped these six episodes awhile ago and now you're kind of in the same pattern as everyone else; waiting. But everybody, from what it sounds like, is still completely on board. So if the show comes back, everybodys going to be back. That says something about how much you guys care about the product?
KA: Yeah, absolutely. It's very seldom you get a group of people together and create something [that] ever since day one they want something all of us have. We were fortunate to get in such a classy project. You get good people who love to go to work and you've got good performers who like to play off each other. All of us were sort of befuddled that things went the way they went [with NBC], but obviously things happen for a reason. [But now] we're at a place where people can see what we're trying to do.
CB: And maybe the creators can do the show more of the way they wanted to from the beginning?
KA: Absolutely. Absolutely.
CB: Because of your connections to Southland, and Southland's connection to the whole Jay Leno situation at NBC, I have to at least bring it up. With NBC now canceling The Jay Leno Show [the final episode airs tonight, opposite the latest Southland], is there any part of you that wishes maybe they'd realized sooner it wasn't going to make it, and you guys would have been able to stay at NBC or do you think it worked out for the best?
KA: Honestly, if you'd asked me this a week or two after we got the word we were being cancelled, I would have been, "Yeah, I wish they would've told us that." But having all this time in between, and sort of seeing the way things are turning out and the way things are going, I am absolutely positive and certain that things have happened the way they're supposed to. For some reason or another it's unfolding the way it's supposed to. I have no regrets. I have no ill wishes toward anybody, but I think we are at the right place right now. And I think it's the right time for that.
CB: So, if a future opportunity came up at NBC there wouldn't be any ill feelings about how everything went down? Chalk it up to business as usual?
KA: At the end of the day, NBC is a business, and they're trying to figure out their business. We're doing our thing and that's what we do and that's what we love to do, and we'll continue doing it for as long as people will let us do it as actors, and performers, and creators. As artists, where we do what we do, and those guys figuring out their business, we are lucky that there's another place out there for us that appreciated the art that we're putting out.
CB: In a way, all the buzz that surrounded Southland has been tremendous as far as public awareness of the show goes. It went from being a somewhat talked about cop show on NBC to one of the most talked about stories of the early falls season.
KA: Exactly. That [buzz] is something that we didn't have a lot of when we premiered on NBC. There wasn't a lot of press or push.
CB: Is there anything coming up for your character, or in that second half of the season that you tease at all?
KA: "Watch out!" is all I have to say, man, because [there's] some really great stuff, and I can't tell you much about it. But man, in these next couple of episodes, you really get to figure out who Sammy and Nate are, which is my character and Shawn Hatosy.
CB: The whole situation with the witness protection girl ... that, for me at least, has been one of the most dramatic sequences in the series so far, because she's just this innocent girl trying to do the right thing. Your characters are stuck right in the middle, trying to help her but not really getting the help you need.
KA: That's definitely Nate and Sammy. That's our territory: gang territories. Not to give too much away, [but] it unfolds nicely is all I can say, really. You really get to feel the heart and soul of who these two guys are and where they come from and you know what makes them who they are. You can see our passion about it as the rest of the season unfolds.
CB: you've played a lot of good characters on some pretty high profile shows the past several years where does Nate Moretta rank among them as far as how much you enjoy playing them?
KA: Oh man! You know, he's in a league of his own. I try to take pride in all of them; in every character that I've played; but he's so different. One thing that attracted me to him is that he is completely different from anything I've done thus far. Just being able to in to situations like this and do so much research and really allow myself to swim around in it has been amazing, and makes him one of the one of best characters to add to what I've done.
CB: I'm gonna switch gears slightly. As you probably heard, Ugly Betty was just canceled by ABC.
KA: Yeah, I heard that.
CB: have you kept up with that show at all since you left after the first season?
KA: You know, I really haven't. My wife watches it though; she loves that show. But I keep up with Ana [Suarez, who played my love interest]. Like I said earlier, things happen for a reason, I have no doubts that all of those guys are gonna do great afterwards.
CB: I'm gonna throw out a nice obscure cult favorite show of mine that you were a part of over on FOX: Drive.
KA: Drive! Yeah, man!
CB: Drive is one of those shows that didn't have an audience, but sure has a passionate following of people who remember it well. It barely got a chance to get started but, it seemed like a show that was different than anything I've seen before or since. What was it like being a part of such a strange concept?
KA: It was awesome! It was new and invigorating, and I got to drive around in cool cars, [and] get in crazy situations. You're right, it was so different and I wish that show [had gotten] a chance to breathe a little more, because that would have been fun to play around with for a while. But I had a great experience with that. I met great people; Nathan [Fillion is] still one of my buddies; [we] still text or talk every now and then. It was a great experience. Man, I would love to do something with all of those guys again.
CB: Maybe they'll bring it back for a movie. Probably not, but we can always hope.
KA: Probably not, yeah. Put that one to rest, but that was one of the heartbreakers for me, because I thought it was kinda cool, too.
Southland airs Tuesday nights at 10 PM ET on TNT.
Your Daily Blend of Entertainment News
Your Daily Blend of Entertainment News
Thank you for signing up to CinemaBlend. You will receive a verification email shortly.
There was a problem. Please refresh the page and try again.