No Jack Bauer? Check Out These Three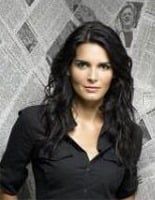 By now, you've probably heard the dreadful news that we'll have to wait even longer for season seven of 24. Being a writer, I totally get the writer's strike, because we have to stand up for ourselves! But being a writer means I spend an insane amount of time staring at a computer screen, so I NEED to live vicariously through Jack Bauer.
But all is not lost, because there are plenty of other rugged characters on TV these days. Ok, they may not be as rogue as Bauer, but they're just as tough, in a no-holds-barred sort of way. Here's my pick for the top three characters who warm the cockles of my cynical heart every week:
1) Lindsay Boxer, Women's Murder Club. Played by the husky-voiced Angie Harmon, this hard-nosed homicide detective works people over and downs shots of whiskey with world-weary glee. Oh, it's not that she doesn't care. When her Medical Examiner friend Claire needed help injecting some romance into her love life, Lindsay left a gift-wrapped negligee in her office with instructions to use it on her wheelchair-bound husband. She cares where it counts.
2) Sebastian Shark, Shark. When James Woods guest-starred as his gnarly self on Entourage last year, I knew we had a good thing going. Now he gets to play himself every week as Sebastian Shark, a criminal defense attorney running the High Profile Crime Unit of the D.A.'s office in L.A.. He couldn't give a rat's ass what anyone thinks. He just gets the job done.
3) Samantha 'Sam' Marquez, Las Vegas. I want to be Sam Marquez when I grow up. She's smart, she's sexy, and she knows how to take care of herself. She also trusts her instincts, like earlier this season when no one believed she'd seen a severed head in a bowling bag under some loser's bed. I hope I have the chops not to question my sanity if I ever see a severed head in a bowling bag.
So there you have it. We might have to wait for Jack Bauer, but there are plenty of other take-no-prisoners folks who are ready, willing and able to get us through the long winter ahead, even if it's in reruns. Let's just hope the writers get what they're asking for sooner rather than later.
Your Daily Blend of Entertainment News
Thank you for signing up to CinemaBlend. You will receive a verification email shortly.
There was a problem. Please refresh the page and try again.