Jake Gyllenhaal To Pit Man Vs Wild With Bear Grylls And The Discovery Channel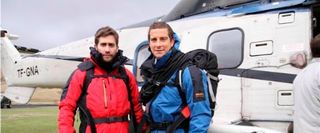 Discovery might be the only network with reality TV that I can stand. Their programs are what reality television should be because, like all the best documentaries, they offer a window into worlds we may not otherwise get a chance to see (and not on the Jersey shore). For example, the crazy survival situations that someone like Bear Grylls gets into on his show Man vs. Wild. Once again, it looks like Bear will have company on at least one of this season's adventures.
Last year, while promoting Land of the Lost, Will Ferrell made a guest appearance on the Discovery Channel's Man vs. Wild with Bear Grylls (or Men vs Wild as it was known that week). It was both funny and, like the show usually is, pretty gripping with Ferrell looking way out of his comfort zone more than a few times (videos below). This season kicks off with another guest star, Jake Gyllenhaal. Yep, Donnie Darko himself is going to battle the wild with the Bear and they had this to say,
We'll see if Gyllenhaal fares any better (or worse) than Ferrell. The Man vs. Wild premiere with Jake Gyllenhaal airs on Monday, July 11 from 9 p.m. ET/PT on Discovery Channel. It's the first of a new 6-episode season.
Men vs. Wild - Will Ferrell Reminisces
Men vs. Wild - Will Ferrell's Human Error
Your Daily Blend of Entertainment News