Jeanne Tripplehorn Joins Criminal Minds For Season 8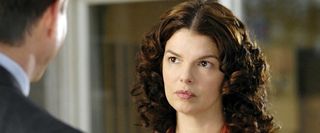 We learned earlier this year that Paget Brewster was set to depart Criminal Minds. The exit of Emily Prentiss leaves an opening for a profiler at the FBI's Behavioral Analysis Unit on the CBS crime procedural, and it looks like the series has found their replacement in Jeanne Tripplehorn.
Does anyone else think of Date Night when they hear the name Jeanne Tripplehorn? Maybe that's just me. It's likely most people associate her name with actual roles that she's played, including HBO's Big Love, in addition to a number of notable feature roles over the years (Basic Instinct, The Firm, Sliding Doors). And now it looks like she'll be taking her talents and television experience over to Criminal Minds. Entertainment Weekly posted the news that Tripplehorn has been tapped to join CBS' series for its eighth season, replacing Paget Brewster. She's set up as a series regular for the show, so fans might expect to see her around for a while.
Not much information is given about Tripplehorn's character in the series, other than the mention that she's joining the team as a profiler, and that her character will be introduced in the Season 8 premiere. So that should give viewers of the series something to chew on between now and the fall. Since Big Love wrapped up, Tripplehorn's TV appearances consisted of a Lifetime movie called Five and a couple of episodes of Fox's New Girl. It's good to see that she's found a more permanent home on television.
Your Daily Blend of Entertainment News
Thank you for signing up to CinemaBlend. You will receive a verification email shortly.
There was a problem. Please refresh the page and try again.