Jessica Lucas To Star In Josh Schwartz' CW Pilot Cult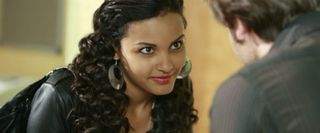 They should probably just rename The CW to the 'Josh Schwartz Network.' Anytime you turn to the channel there's a pretty decent chance you'll end up landing on one of the writer-producer's several series on teen-skewing network. Schwartz mainly focuses his creative energy into producing young adult dramas for the network - clones of his own The O.C. - such as the ever popular Gossip Girl and Hart Of Dixie. Schwartz also has two new projects in development at the network, including the Sex and the City prequel The Carrie Diaries as well as Cult, which just tapped a familiar CW face in Jessica Lucas to star.
Deadline reports that Lucas, the actress best known for her work on The CW's remakes of both 90210 and Melrose Place (although, I first saw her and her star potential in Matt Reeves' Cloverfield) has been cast in Cult. The newest pilot from Schwartz, Cult doesn't seem to stray too far from his winning formula - young adult dramas, starring attractive young women like Lucas - except this time, by adding a crime procedural element, perhaps he's taken a page or two out of fellow CW series creator (and frequent macabre and murder storyteller) Kevin Williamson's playbook?
Cult is about a young production assistant, named Skye (Lucas), who works on one of the most popular series on television - also named Cult. The show within the show must also be a crime narrative because once crazed fans start to reproduce the on-screen disappearances and murders, our inquisitive P.A. joins forces with a blogger in order to investigate the real life murders (not our real-life but the real-life within the show... unless someone starts replicating the crimes that are being replicated... whoa, so meta). It seems that someone is following the Cult a little to closely and it's up to Jessica Lucas and a blogger to bring them to justice. Sounds perfect for The CW.
Your Daily Blend of Entertainment News
Thank you for signing up to CinemaBlend. You will receive a verification email shortly.
There was a problem. Please refresh the page and try again.