Jimmy Fallon Will Reportedly Take Over Tonight Show By 2014 In NYC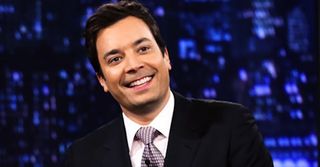 It looks like the rumors are true; Leno's The Tonight Show days are reportedly numbered and the man who will take his place will, as previously hinted, be Jimmy Fallon. Not only that, but the change is expected to take place by the fall of 2014, and will be accompanied by a move back to New York City for the venerable late-night show.
While it's been expected for some time that Fallon would be the next to sit at the Tonight Show desk, NBC hasn't confirmed or denied anything. Today, The New York Times says the peacock network has made a commitment to Fallon to take over as host, and is finalizing the details as to when. The wording is "no later than" fall 2014, which seems to hint it could even be sooner. What does seem to be decided is the where; NBC is already building a new studio for Fallon at 30 Rockefeller Plaza in New York, the network's headquarters. The move would be a return to the beginning for The Tonight Show, which first aired from NYC in 1954 with Steve Allen doing the hosting duties, moving to California in 1972 during Johnny Carson's reign.
The shift would have Jimmy Fallon going head-to-head once more with Jimmy Kimmel, whose schedule change took him out of competition with Fallon's current show. Fallon should bring a youth to The Tonight Show that will help it compete with Kimmel and leave Letterman as the last of the old guard in late night. It also allows Fallon to stick with his roots in New York City and at 30 Rockefeller Center, where he became a household name on Saturday Night Live.
There's no word yet on what will happen with Fallon's current gig, Late Night With Jimmy Fallon, but we can likely expect some news on the new host of that show soon. In the meantime, check out Fallon talking about the possibility that is now becoming a reality months ago on CNN.
Your Daily Blend of Entertainment News
Thank you for signing up to CinemaBlend. You will receive a verification email shortly.
There was a problem. Please refresh the page and try again.