Joan Rivers Will Guest On Drop Dead Diva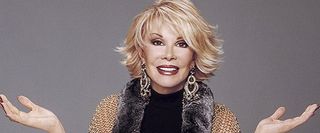 Drop Dead Diva has added yet another big name guest star to its roster for the upcoming season, and this time she's a serious diva herself. Joan Rivers is taking a break from loudly judging how everyone in Hollywood looks to pop by the show for a two-episode guest appearance.
The queen of the red carpet will bring her unnaturally preserved face by in a subconscious role, where she speaks to Jane at first through a dream where she's apparently some sort of psychiatrist or therapist. Apparently she's there to tell Jane she's "just like Madonna and her 23-year-old boyfriends", and she's "not fooling anyone." Pretty funny words coming from a woman who has done her best to fool us all about her age, rather ineffectively – but I'll admit that Joan has the ability to laugh at herself.
What's Jane up to that it requires a visit from Ms. Rivers to put her in her place via Madonna comparisons? That's not quite clear yet, but EW says she'll be popping up in Jane's head and providing her opinion in two episodes this upcoming season. Giving her opinion is Joan River's favorite thing to do, after all.
Rivers joins a slate of guest stars for Lifetime's drama that includes Kim Kardashian, Serena Williams, and Patty Duke. The series is gearing up for a June 3rd premiere date, and continues to add new guest stars for the season. It's shaping up to be an interesting one, that's for sure. You can expect to see River's dispensing her advice in that unmistakable voice of hers sometime in July.
Your Daily Blend of Entertainment News
Thank you for signing up to CinemaBlend. You will receive a verification email shortly.
There was a problem. Please refresh the page and try again.