John Legend Replacing Lionel Richie On ABC's Duets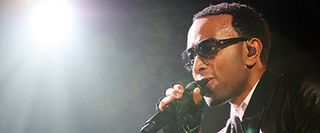 ABC's new reality competition series Duets has had a change in the lineup. Originally slated as one of the mentors and singing partners for the competitors on the show, Lionel Richie is stepping down, and will be replaced by John Legend. He'll be one of four professional musicians who take on two protégés for the competition.
TVLine says Lionel Richie had to step down from his role in the series due to scheduling conflicts. John Legend has agreed to take his place. Legend has been making a TV career his goal lately; he also sold a comedy project to NBC back in September, which he would produce. He recently put together a new production company, so involvement in more television projects isn't a surprise.
Duets already has its other star mentors on board. Kelly Clarkson, Robin Thicke, and Jennifer Nettles of Sugarland will also be seeking out future singing stars to be their protégés. They will go in search of undiscovered talent and narrow down their choices to two. The competition will then feature each of the singers doing duets with the star who chose them, with one final winner earning a recording contract. Even for those who don't win, it has to be an amazing opportunity to sing a duet with a star.
Duets is expected to hit the air this summer, and will be among several new talent competition reality shows. Legend is a strong addition; he lives up to his name in the music industry and continues to create new music. He's also worked with a lot of other big names, and is no stranger to duets.